2023 Mid-Year Recap
August 31, 2023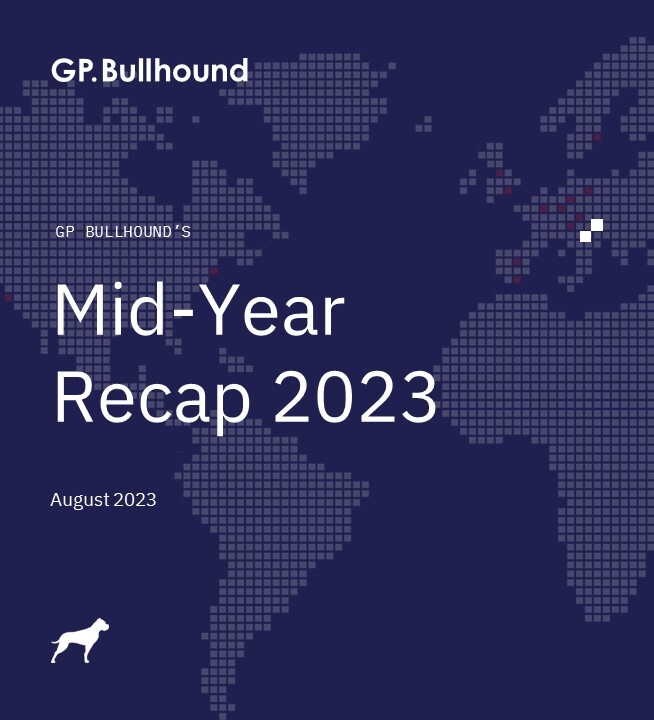 Dear Friends of GP Bullhound,
The first half of 2023 has been a thrilling ride for us at GP Bullhound. Amid the market upheaval and correction from 2021, we have remained resilient. We've not only closed notable deals but have also kept investing in the trailblazing entrepreneurs of tomorrow. Here are some standout moments from the first months of this year.
We advised Doctrine on a majority growth buyout from Summit Partners and Peugeot Invest, supported Miura Partners on their investment in Wikiloc, we played a pivotal role in advising GOAT on its strategic sale to WPP, and we facilitated the sale of Factor Eleven to Armira Investment Holding. We enabled a growth investment by ABRY Partners for Precision Strategies and advised Fatmap on its acquisition by Strava, further solidifying our trusted advisor status to the world's leading technology investors and entrepreneurs. For more information about our recent transactions, please click here.


Our late-stage venture strategy has shown great resilience and continued growth. In the first half of the year, we have exited two holdings with strong returns. We continue to back brilliant software companies through our new 6th fund, which features ESG-leader EcoVadis from France and the SaaS-for-hospitality champion CoverManager out of Spain as its first two announced investments. We have recently closed a third investment, which will be formally announced later in September. Our 6th fund will have its final close in January 2024 and will continue to be backed by our long-term institutional partners and our great cohort of tech founders and their family offices. Furthermore, our highly thematic public-market fund "GP Bullhound Global Technology Fund" has emerged as one of the top-performing tech funds in Europe, with an impressive +32% increase year to date*, due to its strong focus on the AI value-chain.


Q1 2023 saw the continued drought of tech IPOs and valuations remained under-pressure in the private tech market in Europe and the US. Our unique outlook and insights have shed light on industry trends, getting under the skin of the substantial $9.7 billion deployed by tech investors in Q1 2023, and the notable rise in AI start-ups across Europe, as detailed in our "Titans of Tech" report. Our dedication to imparting industry knowledge is unwavering with the publication of insightful resources like the "CFO Handbook" and "Investing in AI," underscoring our commitment to arming our partners with tools for success. For more information about our latest insights, please click here.


We take great pleasure in engaging with communities and tech entrepreneurs at our regular events, such as our annual Northern Tech Awards, held in Edinburgh in April, which celebrated the thriving tech sector in the North of the UK. We are also eagerly awaiting the Allstars Awards on 19th of October in London, where we aim to honor innovation and accomplishment in the tech industry.


As we step into the second half of 2023, our commitment to supporting entrepreneurs and investors, providing trusted international advice, and operating at the forefront of technology remains steadfast. We continue to expand our geographical reach with new offices in Germany, and we have also expanded to a new expanded office location in London. Come and visit!

We eagerly anticipate engaging with you more in the future. To stay informed about our endeavors and insights, don't forget to subscribe to our newsletter on our newly launched website.

Together, we look forward to a brighter and more prosperous future.

Best regards,
The GP Bullhound Team

* GP Bullhound Global Technology Fund performance as of 30th of June in Euro