GLOBAL DIGITAL COMMERCE MARKET PERSPECTIVES Q2 2023
Q2 insights into Digital Commerce.
July 20, 2023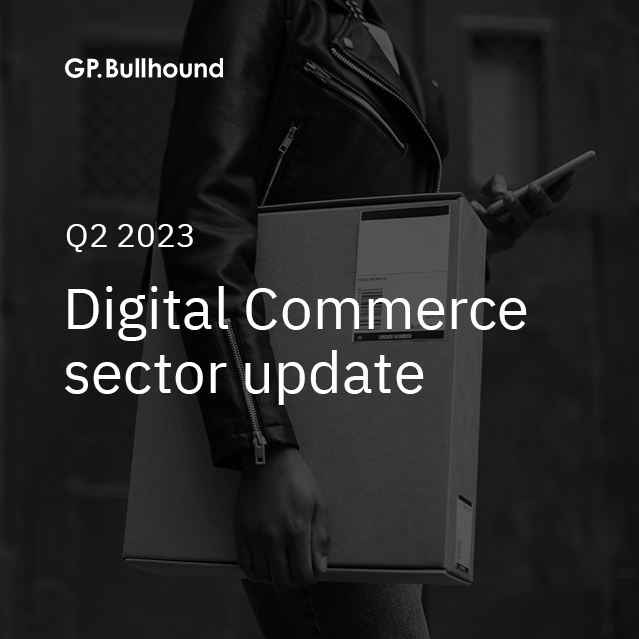 20 July 2023 - GP Bullhound publishes qualitative insights into broader Digital Commerce trends and public and private valuations across the transaction spectrum, and interviews with today's leaders transforming the sector.
Alessandro Casartelli, Executive Director at GP Bullhound, said: "In our latest report, we have highlighted the key digital commerce trends in Q2 2023. Virtual dressing room technology becomes mainstream thanks to AI, drone deliveries are growing in popularity as a quicker and more cost-effective delivery method, and public-to-private deals and hostile takeovers attempts have made a comeback as some companies are perceived as undervalued. While the IPOs remain quiet and valuations are still off their highs, the market is showing initial signs of recovery."
"Virtual dressing room" technology enters the mainstream thanks to AI
Google's new tool lets customers try on clothes virtually, revolutionising the way consumers shop for clothes online. Until now, augmented reality has had limited success in bringing virtual dressing into the mainstream
The capability is similar to a store assistant bringing customers choices based on colour, style, patterns and price. Unlike a physical shop, it's not limited to in-stock inventory and can recommend products to shoppers across brands
AI and virtual dressing rooms could significantly reduce the number of returns, creating savings for ecommerce retailers. Fewer returns will also limit the fashion industry's negative impact on the climate
Drones proving to be a more convenient and sustainable delivery option
Studies show drones could result in cost savings of 70% for ecommerce companies when compared to more conventional techniques
The ecologically benign aspect of drone delivery can draw in clients who are concerned about the environment. PwC predicts a reduction of 2.4 million tons of carbon by 2030, which is equivalent to removing 1.7 million cars from the road for a year
Governments and aviation authorities are working to establish guidelines and regulations to ensure safe and responsible drone operations
Take privates and hostile takeover attempts for seemingly undervalued assets
P2P transactions on the rise as private equity investors are willing to take a longer-term view than their public equivalents
Valuation also plays a part – volatility in public markets has long equated in opportunities for both public and private investors to discover undervalued stocks
While takeover opportunities exist, the right valuation will always be important and investors need to find the right balance between value and capitalisation
Enquiries
For enquiries, please contact:
Alessandro Casartelli, Executive Director, at alessandro.casartelli@gpbullhound.com
About GP Bullhound
GP Bullhound is a leading technology advisory and investment firm, providing transaction advice and capital to the world's entrepreneurs and founders. Founded in 1999 in London and Menlo Park, the firm today has 14 offices spanning Europe, the US and Asia.