GP BULLHOUND'S WEEKLY REVIEW OF THE LATEST NEWS ON THE PUBLIC MARKET
Tech Thoughts Newsletter – 24 March 2023.
March 24, 2023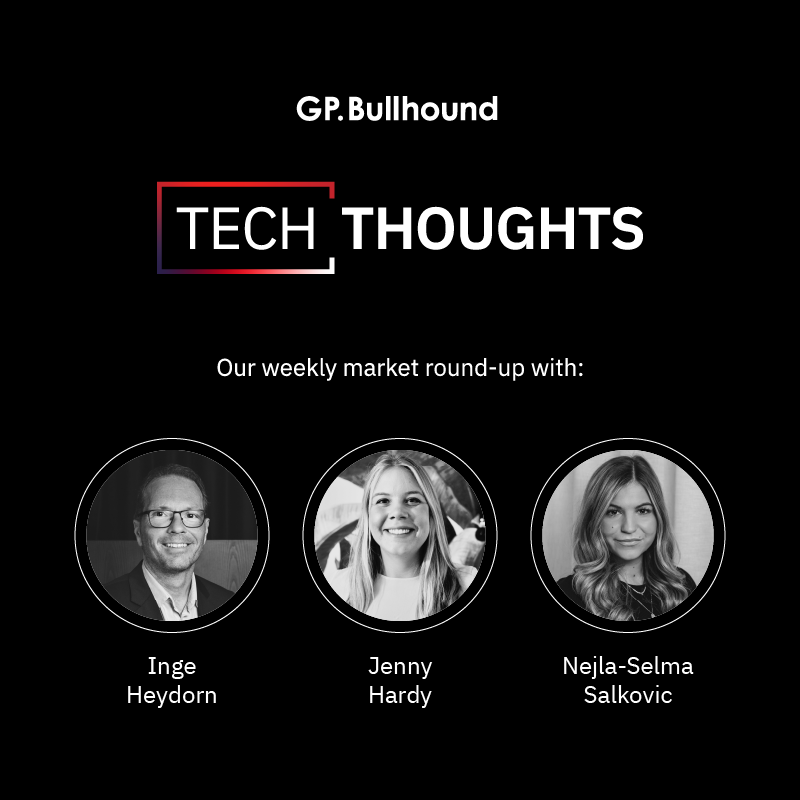 24 March 2023 - Our weekly market round-up with our public market team: Inge Heydorn, Partner; Jenny Hardy, Portfolio Manager; and Nejla-Selma Salkovic, Analyst. This week covers Nvidia's GTC event, news flow around semis and politics, and Amazon's gaming announcements. Subscribe to our Tech Thoughts Newsletter for weekly updates on our latest news and insights.
Market: Another volatile week and again the broader market focus was all around the banking system and the Fed.
Portfolio: We have not made any major changes to our portfolio this week.
In tech, we're still talking about AI: Nvidia (owned) held its developer conference which was the big event for us, and Google launched its Bard product. Like OpenAI's Chat GPT and Microsoft's Bing chatbot, Bard is a chatbot based on Google's large language model LaMDA. The competitive posturing between Microsoft and Google continues (with Google clearly behind from a PR perspective…).
Nvidia's GTC as expected focused almost entirely on AI. 18 press releases went out around the conference, and we've been trying to parse which are the most meaningful for Nvidia and for the ecosystem as a whole. For us, it was this announcement on DGX Cloud which was by far the most significant:
NVIDIA today announced NVIDIA DGX™ Cloud, an AI supercomputing service that gives enterprises immediate access to the infrastructure and software needed to train advanced models for generative AI and other groundbreaking applications.
DGX Cloud provides dedicated clusters of NVIDIA DGX AI supercomputing, paired with NVIDIA AI software. The service makes it possible for every enterprise to access its own AI supercomputer using a simple web browser, removing the complexity of acquiring, deploying and managing on-premises infrastructure.
Enterprises rent DGX Cloud clusters on a monthly basis, which ensures they can quickly and easily scale the development of large, multi-node training workloads without having to wait for accelerated computing resources that are often in high demand.
"We are at the iPhone moment of AI. Startups are racing to build disruptive products and business models, and incumbents are looking to respond," said Jensen Huang, founder and CEO of NVIDIA. "DGX Cloud gives customers instant access to NVIDIA AI supercomputing in global-scale clouds."
NVIDIA is partnering with leading cloud service providers to host DGX Cloud infrastructure, starting with Oracle Cloud Infrastructure (OCI). Its OCI Supercluster provides a purpose-built RDMA network, bare-metal compute and high-performance local and block storage that can scale to superclusters of over 32,000 GPUs.
Microsoft Azure is expected to begin hosting DGX Cloud next quarter, and the service will soon expand to Google Cloud and more.
We've spoken before about Nvidia's architecture leadership in AI, mainly driven by its software ecosystem CUDA which is fast becoming the industry standard in AI and a very effective moat (while it's free, it also only runs on Nvidia chips..).
Nvidia has so far integrated itself into most of the world's AI frameworks and has spent the last several years building up and investing (along with its customers) in the CUDA ecosystem and architecture. CUDA gets rid of a lot of the complexity in writing parallelized software and makes it much easier to implement programs that run on Nvidia GPUs.
And it looks like DGX does the same for building and operating large language models. For most enterprises it's very hard and complex to create your own large language model, much easier to take your data and plug it into Nvidia's pre-trained models.
Nvidia's latest announcement effectively builds another layer on top of the SDK library which itself sits on top of the CUDA operating system/software – it's expanding further up the stack. Effectively DGX Cloud will allow companies to more easily build custom models with their own datasets, and use either Nvidia's proprietary pre-trained language models, or their own to run on top of DGX Cloud. And just like CUDA only runs on Nvidia chips, Nvidia's large language models only run on DGX cloud.
This makes sense for Nvidia – if more of the innovation happens on top of large language models further up the stack, the risk is that value starts to shift away from CUDA. What Nvidia presumably hopes is that customers choose to implement the full Nvidia stack, and has both CUDA and DGX cloud as the competitive moat and ultimately controls more of the value chain.
Clearly there are question marks around the cooperation/coopetition with the hyperscalers – Nvidia has so far announced that this will be available on Oracle first (which makes sense – Oracle is firmly behind and maybe it can catch up on Nvidia's coat tails), as well as Microsoft and Google. AWS was notably absent from the announcement but we assume that might be a timing issue and will be announced subsequently – there were other joint announcements from AWS/Nvidia at the event.
You can see the conflict here – Nvidia is trying to go direct to the customers. You will choose Nvidia for your cloud service first and foremost, and presumably whether that's running on Azure, GCP etc will be secondary – we assume that Nvidia will implement its architecture such that you shouldn't get wildly different experiences on whichever cloud provider it's built upon. So there is clearly potential for a value shift and price competition for hyperscaler capacity (why wouldn't I go for the cloud service which is cheapest if Nvidia assures me the experience is the same?)
At the same time, for cloud providers it's more capacity sold (to Nvidia) and so they're unlikely to say no to Nvidia buying capacity for DGX cloud.
The other very important point is that this will be a software and services model (Nvidia will be working with customers to help them to use Nvidia's developed large language models – Nemo for large language models, Picasso for image models and BioNemo for science and drug discovery).
And critically, at the end of the press release, they make the subscription business/revenue model clear – "DGX Cloud instances start at $36,999 per instance per month". Nvidia has historically been amongst the most cyclical of semis businesses (especially last year, especially since it started prepaying for capacity at TSMC) – so there is also an element of a shifting business model towards less cyclicality. Effectively enterprise customers rent Nvidia GPUs, take a software subscription around the large language model, and buy hyperscaler compute capacity all at once, all through Nvidia.
Overall it's an interesting and potentially very significant development for Nvidia – already capturing a good degree of value from the AI ramp and setting itself up to capture more going forwards.
It's right to expect competing solutions to emerge and for the competitive situation around the hyperscalers to evolve (OpenAI and Microsoft Azure is the obvious one) – it's natural not to expect Nvidia to reach the same incumbency as CUDA, nevertheless it's the right thing for Nvidia to do to try to capture more of the value.
Shorter term, AI is already capturing significant value from AI build ups and there has been an acceleration of demand for Nvidia chips around training large language models and then separately around inference demand – as these large language models are being connected to genuine applications that are starting to be used.
The other piece of news was Nvidia's launch of the H800 being sold into China – a derivative of the H100 Hopper GPU, just like the A800 which are physically inhibited (fused), in order to slow them down to meet the US/China restrictions.
Portfolio view: We've spent a lot of time over the last few weeks discussing AI and the winners and losers. For us the business model shifts around AI are still uncertain (how will search as a business model work?).
What it definitely means though is that billions of dollars will be spent on chips. As above, Nvidia (owned) has the most robust ecosystem and is the obvious incumbent in GPU. AMD (owned) is winning in CPU. In turn, everyone will make their chips at TSMC, and the build out of capacity at the leading edge will continue to support the semicap equipment players, most notably ASML.

A slew of other AI news:
Digitimes reported that TSMC was seeing rush orders for Nvidia A100, A800 (Baidu's ErnieBot we spoke about last week is using A800 chips)
Canva integrating AI tools
Shopify announcing Google AI cloud integration for merchants
Microsoft announced that it had added support for third-party integration for ChatGPT
SeviceNow upgrading its Utah platform with AI capabilities
Semis and politics continued:
The US outlined further restrictions around recipients of the CHIPS Act – though not really new news or outside of our expectations
New measures include: (1) $100k spending cap on investments to add capacity in China; (2) ban on recipients adding more than 5% capacity to existing facilities (10% for legacy – lower than 28nm – nodes); The other countries of concern that the ban relates to are Russia, Iran and North Korea.
As we've said before, we'll see how these get implemented in reality – but it does strike us as a neat way of getting foreign entities (like TSMC, Samsung) to further hamstring China. Before these guardrails were in place, it was up to their own governments to impose restrictions. Now, if TSMC takes its subsidies for the Arizona fab (which it will – the fabs make no economic sense with the subsidies, so without would be a disaster) – it must basically commit to not expanding its Nanjing fab in China – which would presumably be a fairly high return on invested capital investment. Not super helpful (for TSMC) but given we had half anticipated a hard "no" around expansion, it could definitely have been worse.
Counterbalancing this somewhat, China is making it easier for a handful of semi companies (SMIC, Hua Hong, Huawei and equipment makers Naura and Advanced Micro-Fabrication Equipment) to access subsidies. There had previously been strict performance requirements in place to access subsidies but this requirement has been taken away
Portfolio view – puts and takes for semicap equipment makers here. We think we're close to peak globalisation as it relates to chip manufacturing. That is part of what informs our positive view on semicap equipment – more localised fabs means more equipment, even if that might make very little sense economically (TSMC's Arizona chips will cost ~40% more than its Hsinchu fabs). China trying to catch up its equipment makers is nothing new – but our best guess is that post restrictions it's now 15-20 years behind. Easier access to subsidies for Chinese foundries is helpful. We continue to think China will be a key driver of spend in 2023, with players like SMIC and HuaHong making good progress with their 28nm fab expansion projects, as well as projects around power discrete/MCU projects.

Accenture no real surprises – beat but late cycle growth slowing…
Accenture (not owned) reported – spend is it still holding up, but the strength is more concentrated into specific sectors now. Consulting revenue was the weakest area of spend where growth slowed to 4% cc and consulting bookings growth ~2% cc. It lowered the top end of its guidance from 8-11% to 8-10%.
In the details Europe was stronger than the US. Comms and Media and High-tech spending relatively weaker.
Margin guidance still good – 10-30bps yr/yr expansion which is good with the headwinds around wage inflation.
The commentary is probably an extension of what we've heard around software spend that digital transformation is still happening, but that there's more of a focus around particular projects and a degree of reprioritisation of spend and a focus on return on investment – no real surprises.
More job cuts as the year of efficiency in tech continues
Marvell cutting 4% of its workforce
Amazon announced more layoffs – 9,000 employees, including at streaming site Twitch. DPReview (the camera review site Amazon bought back in 2007 is also being shut down as part of its annual review process.
Accenture announced 19,000 redundancies (a large number but worth putting into context of ~2.5% of their workforce)
Gaming – Amazon Luna being rolled out more broadly
Amazon has expanded its cloud gaming service, Luna, to the UK, Canada, and Germany. The services was previously only available in the US
It's noteworthy given Amazon's record of cancelling projects, and the lack of traction it has in Luna (it was rumoured in February to have lost more than 50 games – though it was recently rumoured that that they will offer Epic Games' Fortnite on their platform)
Slightly surprising news for us – we had assumed it would go the same way as Google's Stadia.
Amazon Luna offers "channels" you can subscribe (for example the Ubisoft channel where you can play Ubisoft published games). The other question is whether Luna might end up becoming more a part of the Prime bundle and the broader "Home" universe. Perhaps the one plus point worth noting is that it would be difficult to attract too much regulatory scrutiny around Amazon in gaming – Luna had about 5% of the global cloud gaming users in 2022 according to the UK CMA as part of its Activision Blizzard/Microsoft review.
For weekly insights on the latest market updates, please subscribe to our Tech Thoughts podcast.
For more information about the latest trends and forecasts, please visit our official Tech Thoughts page.
We provide investors with access to category leading technology companies, globally. Our assets under management have a total value of more than $1bn, and our limited partners include institutions, family offices and entrepreneurs. Learn more about our funds here.
Enquiries
For enquiries, please contact:
Inge Heydorn, Partner, at inge.heydorn@gpbullhound.com
Jenny Hardy, Portfolio Manager, at jenny.hardy@gpbullhound.com
Nejla-Selma Salkovic, Analyst, at nejla-selma.salkovic@gpbullhound.com
About GP Bullhound
GP Bullhound is a leading technology advisory and investment firm, providing transaction advice and capital to the world's best entrepreneurs and founders. Founded in 1999 in London and Menlo Park, the firm today has 13 offices spanning Europe, the US and Asia. For more information, please visit www.gpbullhound.com.