GP BULLHOUND'S WEEKLY REVIEW OF THE LATEST NEWS IN PUBLIC MARKETS
Tech Thoughts Newsletter – 27 October 2023.
October 27, 2023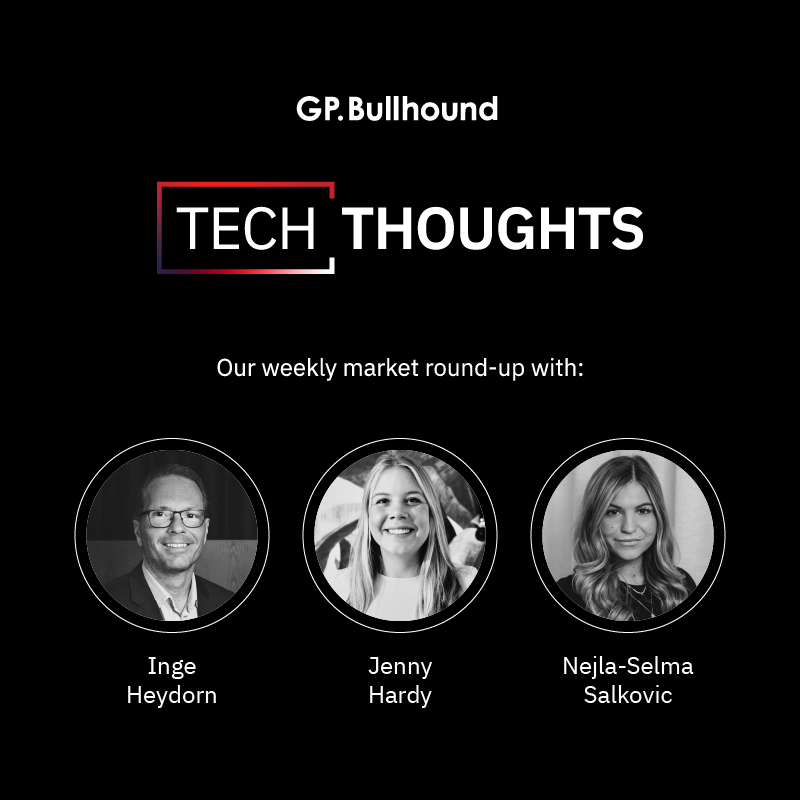 27 October - This week's update covers Big Tech reporting, including Microsoft, Alphabet, Meta and Amazon.
Market: All about results this week, with big tech kicking off reporting. Despite some extreme volatility in share prices, there are positive fundamentals: inventory woes on the consumer side of the semiconductor market look to be behind us, and enterprise spending (seen both through cloud and software results) looks robust, with Amazon's AWS commentary on the call last night particularly positive.
Portfolio: We made no major changes to the portfolio this week.
The story of 2023 has been AI. So, with all of Microsoft, Google, Amazon and Meta reporting, a good place to start this week is to revisit how AI impacts their businesses and future opportunities.
The first is the opportunity for each of Microsoft, Amazon and Google's cloud businesses. Each effectively resells compute capacity, and to the extent that AI compute is going up as companies look to train models and run inference, they should all benefit. And that is happening with growth largely stabilising.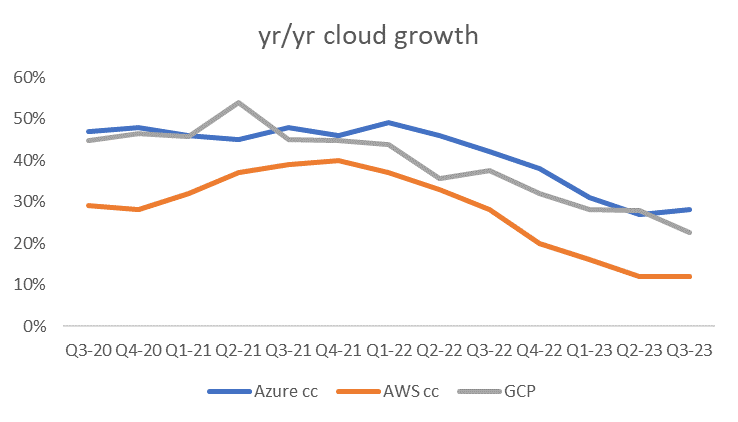 In the results this week, this is most true for Microsoft. While it's hard to disentangle "spend optimisation" headwinds abating and new AI workloads for the market, Microsoft pointed to three of Azure's growth points coming from AI services. And it's Microsoft, that benefits the most (and gains share) regarding new AI workloads. We don't know if it was genius foresight or good luck from Microsoft, but its partnership with OpenAI has been a clear, direct benefit for its cloud business. Satya Nadella, Microsoft CEO, said:
Because of our overall differentiation, more than 18,000 organisations now use Azure OpenAI services, including new to Azure customers. And we are expanding our reach with digital-first companies with OpenAI APIs as leading AI start-ups use OpenAI to power their AI solutions, therefore, making them Azure customers as well."
OpenAI benefits Azure growth in two ways: (1) OpenAI's API runs on Azure – which means that startups which might have previously defaulted to AWS – are now running on Azure; (2) ChatGPT (OpenAI's consumer business) has a revenue share agreement (though we don't know the exact details) with Azure. Of the $3bn incremental cloud revenue this quarter, we believe $2bn went to Microsoft.
The second is how big tech can apply AI to their existing businesses.
For Google and Meta, it's increasingly difficult to disentangle AI with their core business performance. To the extent that they can apply AI to their substantial advertising businesses, they benefit from AI (or perhaps the digital ad market rebound, or both). Both are integrating AI into their advertiser tools to increase ad performance, resulting in higher spend on their platforms and accelerating revenues. Alphabet commented that 80% of its advertisers use at least one AI powered search product. Meta's AI-driven feed recommendations increase engagement, and its AI product development for advertisers drives better performance (Advantage+ shopping, which optimises images and text in ads, reached $10bn run rate).
Spend which went away as a result of lower performance in a post-ATT world (Apple's App tracking transparency – which effectively stopped the use of third-party cookies used to track users across the web) is back, and some – with AI tools around targeting and optimisation seemingly mitigating that ATT impact for advertisers.
And the third, but perhaps the most important, is who can turn AI into an incremental or new revenue opportunity.
The takeaway from listening to all the results calls this week is that Microsoft has the standout incremental revenue opportunity from AI. We've discussed the maths of Microsoft 365 Copilot – $30 per month applied to a potential user base of ~400m. It's a $144bn potential business. That's like adding more than a Meta, and close to Google's search business, to your revenue base. On the call, they said that 40% of the Fortune 100 use Copilot, and that "once [customers] use Copilot, they can't imagine work without it". It's one of the reasons Microsoft remains in a top 3 position in the portfolio for us.
Finally, it's worth calling out the continued theme from last quarter: the amount of capex all Big Tech are spending on building their AI capabilities.
We think hyperscaler capex will amount to ~$160bn this year. Microsoft, Google, ServiceNow mentioned Nvidia chips (everyone wants them) in their calls. And Microsoft, Meta and Google are all explicitly guiding to capex going higher in 2024, all calling out AI infrastructure (chips) driving it.
When we think about Google, Amazon, Meta and Microsoft – they are all in a position to continue to invest – all have large cash balances and can sustain high levels of investment over time. In the portfolio, we benefit from the capex spend on servers and network infrastructure through the semiconductor content – the servers that are used in training and inference have a vast amount more semiconductor content in them and are multiples of the cost of standard enterprise servers: more and faster CPUs and GPUs through AMD and Nvidia, both of which make their chips at TSMC, and further down the chain benefitting the semi cap equipment companies which are all needed to make these leading chips.
Onto results/newsflow
Enterprise software dealflow is picking up
First up, Microsoft (owned) reported a big beat on both the top line and EPS, with every single revenue line coming in above the top end of the guidance range.
The biggest standout was Azure, growing 28% cc (vs 25-26% guidance), importantly, an inflexion from the 27% growth we saw last quarter – having seen quarterly deceleration over the past year. As noted above, that means (1) we might be through the cloud optimisation trend the whole sector has been through, and (2) Microsoft is starting to see the benefit of AI workloads in its growth.
Its core Productivity and Business software segment was up 12% cc, driven by O365, and this is all before CoPilot launches on 1st November, which is the proper AI monetisation piece.
Windows OEM revenue (the price PC manufacturers pay for Microsoft to put Windows on machines) – showed growth for the first quarter since 2021 – definite signs now that PC inventory has cleared, as we saw with Intel, too (below).
Flat yr/yr operating margins showed the cost focus isn't going away – it's impressive in a year which will see $3bn of incremental amortization/M&A payments.
ServiceNow (owned) beat and raised guidance again. Subscription revenue grew 24.5% yr/yr cc, 1% ahead of consensus.
The most crucial forward-looking cRPO number was +24% yr/yr vs. a conservative 22%.
Notably, that better top line comes with leverage: Q3 operating margins were 250bps higher than consensus, driving a 14% EPS beat.
The release and call were full of references to AI features being added (remember they announced Now Assist last month – which comes with a 60% list price uplift).
Amazon (owned) beat on top and bottom line. The key number was AWS revenue, which grew 12% yr/yr – the same level as last quarter (stabilising after six quarters of deceleration). It was slightly lower than the market expected, but the call details were more positive than the headlines. While they're still seeing spend optimisation, the comments were that contract signups are accelerating.
AWS's year-over-year growth rate continued to stabilise in Q3. While we still saw elevated cost optimisation relative to a year ago, this continued to attenuate as more companies transitioned to deploying net new workloads. Companies have moved more slowly in an uncertain economy in 2023 to complete deals, but we're seeing the pace and volume of closed deals pick up. We're encouraged by the solid last couple of months of new deals signed.
The blowout operating income is also positive for AWS – $7bn in the quarter, 30% operating margin. For context, the Cloud business will earn more than double the core North America retail business this year.
The other standout is Amazon's advertising business (which we assume is also VERY profitable) – $12bn (in the quarter) growing 26%.
Portfolio view: Microsoft and ServiceNow give us a degree of reassurance in stabilising enterprise software spend. Both saw strength in large (>$10m ACV) deal volumes. In addition to Microsoft and ServiceNow we own Salesforce, Workday, Adobe and Palo Alto, which have all been resilient in the period of spend consolidation but are all also exposed to more significant deals coming back.
Digital advertising is back – helped by AI – though still macro uncertainty
Alphabet (owned) delivered headline revenue and EPS beats.
Search and YouTube are re-accelerating – Search +11% yr/yr from 5% last quarter, YouTube showed an even better acceleration to 12.5% growth from 4% last quarter.
The only actual crease in results (particularly in the context of Microsoft) was the GCP number, which missed consensus and slowed again to 22% from 28% last quarter. Management is still calling out cloud optimisation, which might still be happening, and it might well be that the customer dynamics of GCP vs Azure mean they're feeling it more. Or, as noted above, GCP is losing share at the margin to Azure. It's likely both.
Meta (not owned) also beat on revs and EPS. Growth was +23% vs the 19% guide. Management commented on "softer ad spend" at the beginning of the fourth quarter, correlating with the start of the Middle East conflict.
For now, though, digital advertising is back – with Meta capturing the best of the recovery (chart below).
As we noted above, both Meta and Google benefit from AI effectively delivering better ad performance for its advertisers, particularly mitigating the impact of ATT.
The cost pivot is back on, too: full-year total expenses guided back down slightly to $87-89bn, though they're still heading for Reality Labs operating losses to increase yr/yr in 2023 and then for it to "increase meaningfully" in 2024 (it lost $13.7bn in Reality Labs in 2022).
On capex, the 2023 number is being firmed up at $27-29bn, but guiding 2024 capex of $30-35bn "with growth driven by investments in servers, including both non-artificial intelligence and AI hardware, and data centres". This shows we're still at the beginning of the AI capex spend.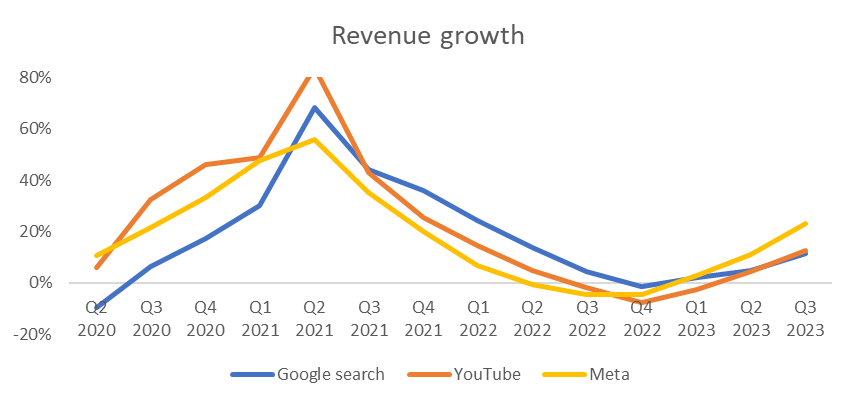 Portfolio view: We own Google, and, while GCP growth is losing out to Microsoft gaining, taking a step back, the most important thing by far is Google's ad business resilience. It's still one of the highest returning businesses in tech, and it's back to double-digit growth (it was only six months the market was playing out scenarios that all of that search revenue was going away). We don't own Meta, given competitive pressures in the digital ad space, though we recognise that it seems to be capturing the best of the ad spend recovery.
Semicap resilience and capex comments a positive
KLA (owned) – revenue better than the guide and next quarter's guidance better too – now very firmly look to be past the trough (Q4 guide>Q3>Q2).
As always, impressive EPS and FCF – these businesses have proven highly resilient in a spend downcycle.
Most notable were the comments, that "utilisation rates are stabilising and increasing in certain parts of our business" (noting DRAM improving – see Hynix below). They commented that they expect overall demand to stabilise, including H1 2024. While not out of line with consensus, it's reassuring and one of the first lookaheads into 2024 management teams have been willing to give.
The current picture is more of the same – strength in legacy nodes (particularly China) offset by softness in memory and leading-edge logic/foundry, and the expectation from Management, the same as heard from ASML and LAM last week, is for Chinese investment in legacy nodes to continue.
KLA will also benefit from adopting GAA (Gate All Around) technology, which TSMC will adopt at 2nm. There continues to be a debate in the industry about when TSMC will move to GAA and 2nm, which depends on Apple's trajectory (let's see if we see their M3 chip debut next week). But there is no doubt the industry will continue to push ahead into the leading edge nodes, which continues to be a significant structural driver of capex spend.
ASM International also reported decent results this week, with GAA orders for its ALD (atomic layer deposition) systems driving upside in the quarter – the first meaningful pilot line orders, indicating 2nm remains on-track.
SK Hynix reported no real surprises in the core results. DRAM turning back to profitability in Q3 due to strong DDR5 and HBM3 demand. More interesting for us is the capex commentary – 2024 will show increased capex, particularly related to HBM (AI-related) memory.
Portfolio view: We own ASML, LAM Research, Applied Materials and KLA. The memory cycle looks to be turning, and we know from Intel this week that foundry spend will be supported by a continued fight for tech leadership. Importantly, these businesses have shown an ability to generate strong FCF and profitability in a downturn, which is key in our investment process.
Intel focus on foundry ambitions – good news for semicap
Intel (not owned) beat on top and bottom lines. It all came from the client business and the more robust PC market, which we knew from the better notebook shipment data we've seen.
Datacentre was still weak for them – they're hurt by spending going away from general purpose compute towards AI – and that will be around for a while. They are also losing their share to AMD (owned), which has better chips (Sapphire Rapids losing out to Genoa).
Most interesting for us and our ASML position is that the bulk of the talking points in the release relate to it regaining manufacturing leadership and building its foundry business. Intel 4 (EUV) is now in high-volume manufacturing and talks about installing the world's first high NA EUV machine.
Portfolio view: It's too early to build an investment thesis on Intel's foundry business as it's still losing share to AMD in datacentre, and there are competitive threats on the horizon in its core business (see below). But it's committed to spending, which is good news for us with semicap. There is a long way to go (and lots of EUV machines to buy) for Intel to get anywhere near TSMC's position in leading-edge manufacturing.
Auto still strong, consumer is firmly back, but further to go through in the industrial semis cycle
Texas Instruments is getting worse but of its own doing. It is hurt by weak Chinese demand and competition in industrial business, compounded by its own capacity additions (utilisation is cut amid continued capacity additions). The bright spot is still auto, up 20% yr/yr.
STMicro reported solid results, and auto continued to grow qtr/qtr, and is expected to grow "meaningfully" into 2024 (in addition to silicon carbide).
UMC reported a better-than-expected quarter, seeing rush orders from both PC and smartphone. Utilisation rates are still going lower (into the low 60s in Q4 from 67% in Q3). Still, we now have visibility into a volume recovery in the market, with inventories returning to normal.
There was a weaker comment from them on autos. Given Texas Instruments and STMicro's positive comments, what UMC (and TSMC, which made the same comments last week) might be seeing is more insourcing of auto volume to IDMs.
Portfolio view: We own NXP and Infineon for the auto exposure, which we still see (along with AI servers) as the best area of structural semis content growth. We saw in results this week that PC recovery clearly bodes well for Intel (not owned, but which we're also no longer short) and AMD (owned).
Other non-results news flow
ARM based CPUs coming to get Intel?
Qualcomm's annual "Snapdragon Summit" featured a new ARM-based PC chip, which had some punchy performance claims vs both Intel and Apple's M2. Maybe that's a perfect time for Apple to debut its M3 (see below).
That came after Reuters reports that both Nvidia and AMD plan to design ARM-based CPU chips for Windows PC.
Intel can't risk losing dominance in its PC business, which is paying for everything else.
Apple raising prices
Apple announced it is increasing the prices of its subscription-based services this week, including Apple TV+, its streaming service. That follows Netflix last week. Subscription price increases are a clear positive for the profitability of these businesses, as long as subscribers don't churn (or pirate TV shows instead).
Slightly relatedly, Alphabet spent a surprisingly large amount of its opening comments on NFL Sunday Ticket.
It remains unclear what the streaming market looks like at maturity. Do Apple, Google and Amazon view it as a critical future revenue growth engine or a churn mitigator? It changes the competitive dynamics a lot.
Apple "scary fast" event next week
On Monday, Apple is broadcasting an event called "Scary Fast". It still needs to be clarified what will launch – we think a refreshed iMac, which will upgrade the M1 chip to the M2.
However, "Scary Fast" makes us wonder if we might also see the debut of the M3 chip in the MacBook Pro. We know TSMC's N3E node is ramping, which we believe is Apple's M3 chip. It still feels a bit early for the launch, but never say never.
China retaliation?
We spoke last week about new US chips restrictions. At the start of the week, there was news that China had launched an investigation into Foxconn (which manufactures the vast majority of Apple's iPhone in China) taxes.
It's not clear whether this is an attack on Apple or related to Taiwanese politics – the founder of Foxconn is a candidate for the 2024 US presidency and, while not expected to be a meaningful runner, could split a pro-Beijing vote and make a pro-independence win more likely.
Foxconn (and Apple) is trying to diversify – it says it will double investment in India next year). But for context, it has 40,000 people assembling iPhones there. In China, it has ~800,000, so we're a long way from that.
China also announced further blocks on graphite products, which are used in the EV battery market, following July's export controls on gallium and germanium, two metals used in the chipmaking process. As we said back then, production can shift. While China doesn't control the whole market, it can disrupt it for a time if it wants to.
Gaming market is back
US video game market numbers for September showed spending +10% yr/yr, continuing the recovery over the past several months.
The Microsoft gaming numbers reflected the recovery, with its Xbox business up 12%.
The market seems to be through the Covid hangover, with new releases driving spend.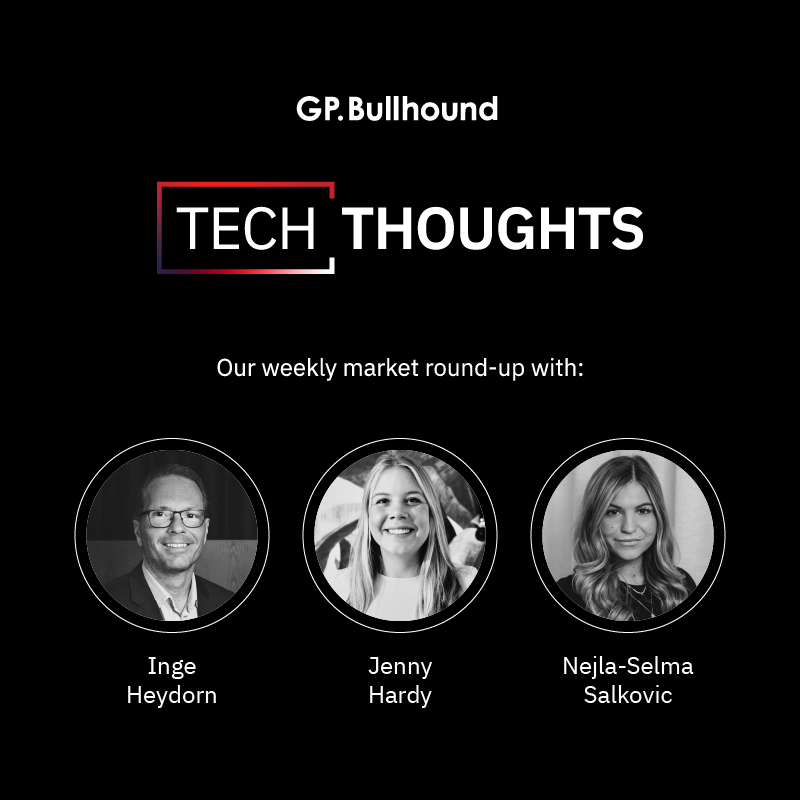 For enquiries, please contact:
Inge Heydorn, Partner, at inge.heydorn@gpbullhound.com
Jenny Hardy, Portfolio Manager, at jenny.hardy@gpbullhound.com
Nejla-Selma Salkovic, Analyst, at nejla-selma.salkovic@gpbullhound.com
About GP Bullhound
GP Bullhound is a leading technology advisory and investment firm, providing transaction advice and capital to the world's best entrepreneurs and founders. Founded in 1999 in London and Menlo Park, the firm today has 14 offices spanning Europe, the US and Asia.