THE VIEW FROM GUSTAV FRIDELL, ASSOCIATE, AND HAMPUS HELLERMARK, PRINCIPAL, GP BULLHOUND
The unstoppable rise of the web as the future of computing.
February 08, 2023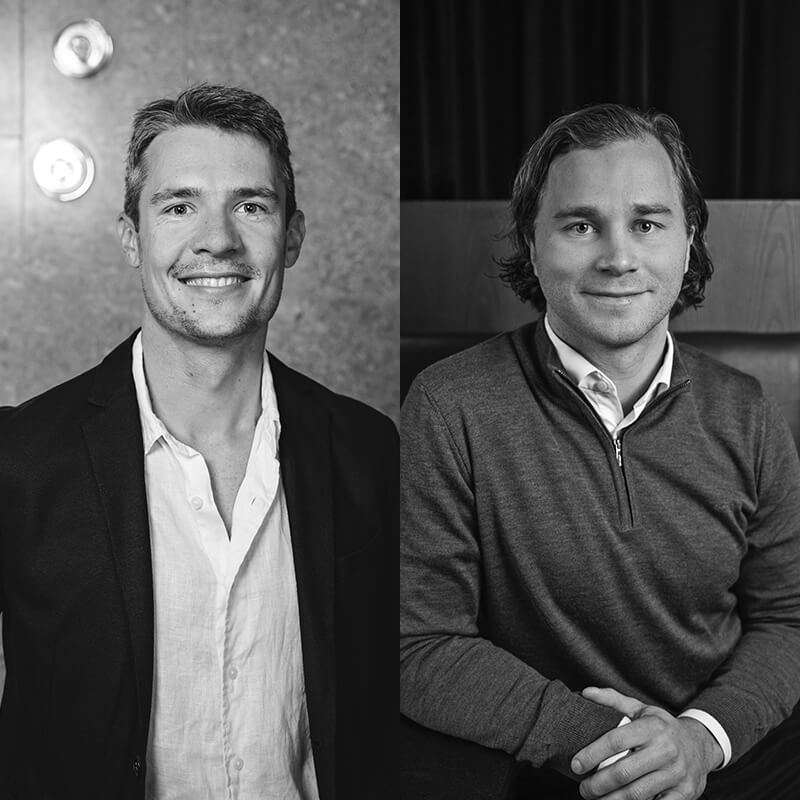 Stockholm, 8 February 2023 - This blog post was written by GP Bullhound staff Gustav Fridell, Associate, and Hampus Hellermark, Principal, from the Investment Management team, based in our Stockholm office.
Apps have become the interface to our modern world. We already spend half of our waking hours using them, and their influence is only set to increase.
Apps are everywhere and run on everything. To cater to the evolving needs of users, be platform agnostic, and control the customer experience, companies have had to focus on developing desktop and mobile applications. This has not only multiplied costs and complexity, but also decreased development speed.
However, after years of improvements, there is now an app platform that has become better than all others, and may soon very well be the only one that is relevant. This platform is the web. The web not only delivers the same user experience as other platforms but also offers a set of fundamental advantages.
The web is the only platform where apps never need to be downloaded, the only platform where its apps run on all devices and operating systems, the only platform that is used by everyone, and the only platform that is not controlled by large tech corporations. These factors make the web the only viable contender for harmonising the fragmented world of app platforms – and this shift has already begun.
As users, we almost exclusively use apps built for the web already. Products we love and rely on daily like Zoom, Slack, Notion, and Figma are nothing but web apps put in a shell to appear like a desktop app that we are more used to.
Not only can we feel this shift, quantitatively it is also clear that:
Web app usage is increasing faster than the usage of other apps – growing more than 50% in 2020-2021, and now getting more than 2x the search interest of Windows and Mac apps combined
Web-related programming languages have taken over – being the most popular languages with a wide margin, making up three out of the top five, including the #1 spot
Companies are screaming for web developers – with interest for the category now being higher than for Windows, Mac, iPhone, and Android developers combined
Engineers are rushing to web development – with skills related to it making up three out of the top five programming skills on LinkedIn, up from two in 2015, and now taking #1
---
Why? As apps have become the interface to our modern world, the value in harmonising the fragmented world of app platforms has never been higher
Half of our waking hours are spent using apps on our phones and computers. From working, to socialising and shopping, the majority is done using apps. They are the interface to our modern world, and are only going to play a bigger part as the world gets increasingly digital.
Apps today run on many different devices and platforms – including phones, computers, and on the web. This multitude of app platforms adds much work and complexity for companies and developers, as well as for users:
Companies and developers need to develop separate apps for each platform, which means multiplying the required work and complexity compared to only developing the app once. There are at least nine different versions of Microsoft Office, for example, and over 25 versions of Netflix
Users today need to download their apps once for each platform they use (with varying availability) and they need to make sure their files and settings are synced
Harmonising this fragmented world of app platforms would therefore bring immense value for companies, developers, and users:
For companies and developers, a single platform would make app development faster, less complex, and less expensive as they would only need to develop the app for one platform
For users, a single platform would mean a single download and installation, as well as no continuous work keeping files and settings synced across platforms
How? The web has fundamental advantages over all other platforms which makes it the best and only viable option for modern apps
Historically, native platforms such as Windows and Mac were the only way to go if you wanted your app to do anything "advanced" like work offline, send notifications, render 3D graphics, or access the device's storage, camera, or Bluetooth. This is no longer the case. The web has seen drastic improvements over the last decades and can now do everything that only native platforms could do before.
On top of that, the web has a set of fundamental advantages over platforms, making it the best and only viable option for creating modern apps:
Web apps never need to be downloaded: They open instantly and can be shared with a simple link (URL)
Web apps run on all devices and operating systems: Users can start working on their phone and then opben the same URL on their computer, while their progress, files, and settings are synced automatically
The web is used by everyone: Browsers are installed on all computers and phones, and developers only need to write one codebase for one app to reach users
The web is not controlled by big tech: Apple controls which apps get to be distributed and run on their iPhone and iPad platforms. This enables them to decide which apps are allowed to see the light of day, while also taking 30% of all revenue that is generated from those that do
What? The shift has already begun and the web is establishing itself as the primary app platform of the future
The data corroborates the web's ascendance as the primary app platform of the future. Let's break it down first for users, then for companies and developers.
Users already use web apps almost exclusively as most apps installed are nothing but web apps put in a shell to appear and run like desktop apps.
Users likely use the web browser more than any other app on their computer, and the others used are most likely web apps as well.
Usage of websites and web apps is increasing much faster than usage for regular apps
+57% for web apps, +36% for regular apps 2020-2021
The shift towards web apps is especially evident looking at B2B SaaS and education products which are more often used on the computer, while consumer-oriented apps – more commonly used on the phone – are still used more as regular mobile apps
The popularity of web apps can also be seen increasing in Google search
Web developers are now the most sought after with search interest for them higher than for Windows, Mac, iPhone, and Android combined
Web development skills are the most popular programming skills on LinkedIn – making up three out of the top five, up from two in 2015 and now taking the #1 spot
The web language JavaScript is the world's most popular programming language and is giving the web an unfair advantage with its unmatched developer community
This advantage is further fueled by other web-related languages becoming increasingly popular as well – most notably TypeScript
Tools for "native" app development are becoming less popular in favour of tools for web development. Xcode is the primary software used for developing iPhone and Mac apps, Android Studio for Android apps, and Visual Studio Code for web apps
---
What this means for us
For us at GP Bullhound, having identified the web's increasing dominance of app platforms means that:
We know of a strong tailwind not obvious to the average investor – putting us at an advantage
We can identify the winners in the web landscape early and with conviction – as developer preference is often a leading indicator of future success in this space. Notable exits of companies that were well-known by web developers to be the category leaders years ahead include: MongoDB with a current market cap of $15bn after going public in 2017, GitHub which was acquired for $7.5bn by Microsoft in 2018, and Figma which was acquired by Adobe for $20bn in 2022
We can isolate other categories which are prone to disruption from web-based alternatives – creative apps being an example. Similar to how Figma disrupted the interface design space by making it inherently web-based and collaborative, the same is likely to happen with video editing, like Runway or Descript, or coding, like Replit, and other creative domains
---
The investment landscape
Building on this, we have identified four categories of companies that are enabling the web's ascendance and will benefit greatly from this shift. These are:
Web building blocks – the infrastructure and components that developers use for building, launching, and running web apps. Examples include APIs, cloud and backend platforms, databases, frameworks, and other technologies, such as Vercel and Supabase
Web design and developer tools – the tools used for designing, coding, and testing web apps. Examples include the interface design software, IDEs in which developers write code, and other apps used throughout the web development process, like Replit and Framer
Web browsers – the apps and interfaces used for accessing and interacting with the web and web applications. While there have been a few dominant names like Chrome and Safari, new ones that try to reinvent the experience are popping up, like Arc by The Browser Company and DuckDuckGo
Web apps could themselves be classified as a fourth category, but seeing that almost all modern apps are web apps, this category would include the entire world of modern software, such as Notion and Discord
Looking at web development from a value chain perspective, like splitting it up into stages of planning, designing, coding, and shipping, it quickly becomes evident which companies are set to win in this space. As we continue to monitor this landscape and its most recent developments, stay tuned for further insights on this topic. Subscribe below to receive the latest research and sector updates from GP Bullhound.
About GP Bullhound
GP Bullhound is a leading technology advisory and investment firm, providing transaction advice and capital to the world's best entrepreneurs and founders. Founded in 1999 in London and Menlo Park, the firm today has 13 offices spanning Europe, the US and Asia. For more information, please visit www.gpbullhound.com.
*No information set out or referred to in this communication shall form the basis of any contract. The issue of this GP Bullhound blog posting (the "report") shall not be deemed to be any form of binding offer or commitment on the part of GP Bullhound or any of its affiliates or subsidiaries. This report is provided for use by the intended recipient for information purposes only.
It is prepared on the basis that the recipients are sophisticated investors (so-called "professional clients" in the meaning of Annex II of Directive 2014/65/EU on markets in financial instruments, or their equivalent elsewhere) with a high degree of financial sophistication and knowledge. This report and any of its information is not intended for use by private or retail investors in the UK or any other jurisdiction where access, use or availability of this information would be unlawful.
This report does not provide personalized advice or recommendations of any kind. You, as the recipient of this report, acknowledge and agree that no person has nor is held out as having any authority to give any statement, warranty, representation, or undertaking on behalf of GP Bullhound in connection with the contents of this communication. Although the information contained in this report has been prepared in good faith, no representation or warranty, express or implied, is or will be made and no responsibility or liability is or will be accepted by GP Bullhound.
In particular, but without prejudice to the generality of the foregoing, no representation or warranty is given as to the accuracy, completeness or reasonableness of any projections, targets, estimates or forecasts contained in this report or in such other written or oral information that may be provided by GP Bullhound. The information in this report may be subject to change at any time without notice. GP Bullhound is under no obligation to provide you with any such updated information. All liability is expressly excluded to the fullest extent permitted by law. Without prejudice to the generality of the foregoing, no party shall have any claim for innocent or negligent misrepresentation based upon any statement in this report or any representation made in relation thereto. Liability (if it would otherwise but for this paragraph have arisen) for death or personal injury caused by the negligence (as defined in Section 65 of the Consumer Rights Act 2015) of GP Bullhound, or any of its respective affiliates, agents or employees, is not hereby excluded nor is damage caused by their fraud or fraudulent misrepresentation. This report should not be construed in any circumstances as an offer to sell or solicitation of any offer to buy any security or other financial instrument, nor shall they, or the fact of the distribution, form the basis of, or be relied upon in connection with, any contract relating to such action. The information contained in this report has no regard for the specific investment objectives, financial situation or needs of any specific entity and is not a personal recommendation to anyone. Persons reading this report should make their own investment decisions based upon their own financial objectives and financial resources and, if in any doubt, should seek advice from an investment advisor.
Forward-looking information is provided for illustrative purposes only and is not intended to serve as, and must not be relied upon as a guarantee, an assurance, a prediction or a definitive statement of fact or probability. Actual events and circumstances are difficult or impossible to predict and may differ from assumptions. Any and all opinions expressed are current opinions as of the date appearing on the documents included in this report. The information contained in this report should not be relied upon as being an independent or impartial view of the subject matter, and for the purposes of the rules and guidance of the Financial Conduct Authority ("the FCA") and of Financial Industry Regulatory Authority ("FINRA"), this report shall not be viewed as research report and is considered marketing communication.
Thus, in accordance with COBS 12.2.18 of the FCA Handbook, its contents have not been prepared in accordance with legal requirements designed to promote the independence of investment research and it is not subject to any prohibition on dealing ahead of the dissemination of the report.
The individuals who prepared the information contained in this report may be involved in providing other financial services to the company or companies referenced in this report or to other companies who might be said to be competitors of the company or companies referenced in this report.
For US Persons: This report is distributed to US persons by GP Bullhound Inc. a broker-dealer registered with the SEC and a member of the FINRA. GP Bullhound Inc. is an affiliate of GP Bullhound Corporate Finance Ltd. All investments bear certain material risks that should be considered in consultation with an investors financial, legal and tax advisors. GP Bullhound Inc. engages in private placement and mergers and acquisitions advisory activities with clients and counterparties in the Technology and CleanTech sectors.
In addition, the persons involved in the production of this report certify that no part of their compensation was, or will be, directly or indirectly related to the specific views expressed in this report. As such, no person at GP Bullhound (including its members, directors, officers and/or employees) has received, or is authorized to accept, any inducement, whether monetary or in whatsoever form, in counterparty of promise to issue favorable coverage for the companies to which this report may relate.