GP BULLHOUND RELEASES EUROPEAN SAAS 2022 REPORT
European SaaS: Re-focus on capital efficiency.
December 12, 2022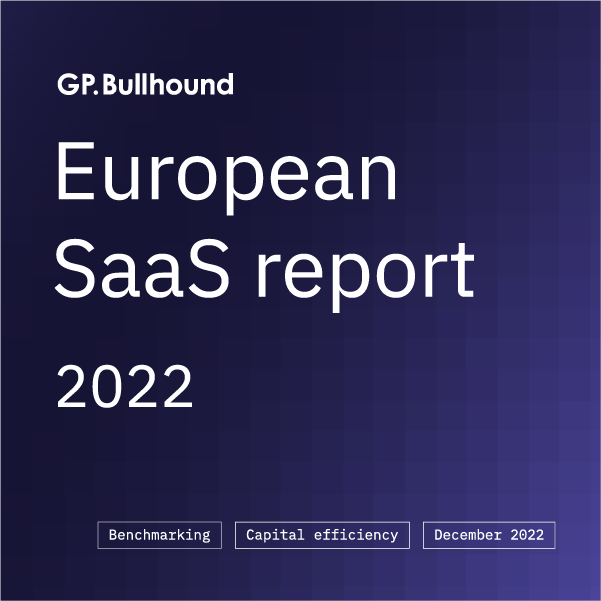 12 December 2022 - GP Bullhound has released its inaugural European SaaS report, providing a deep dive into metrics and deal activity across the region. Given the rapidly evolving macroeconomic environment, we guide SaaS founders, CEOs, and investors on how to navigate the challenges ahead whilst highlighting the performance indicators of those companies most likely to emerge stronger.
GP Bullhound surveyed over 100 SaaS companies across Europe in partnership with Sage, from startups to late-stage scale-ups. We analyse the trends and benchmark the key metrics including growth, capital efficiency, and revenue retention, which are critical to navigating today's macro environment. Despite the market uncertainty, 80% of CEOs we surveyed list revenue growth as their most important objective in the next 12 months, with over one-third planning to raise capital next year.
The report also explores M&A and fundraising activity in the European SaaS sector, including the quarterly evolution of transaction volumes and value, as well as a country-specific breakdown of what's trending.
Alexis Scorer, Partner at GP Bullhound, commented: "Given the macroeconomic headwinds that have significantly impacted public market SaaS valuations, there is an increasing focus on capital efficient growth for both public and private companies. There are reasons to be optimistic about the outlook for European SaaS, and our survey indicates strong levels of resilience amongst a significant proportion of European software companies."
Key takeaways from GP Bullhound's European SaaS survey
Emerging champions: Median ARR growth doubles from 20% to 40% as businesses scale from €25m to €50m+ ARR
Scale efficiencies: ARR per FTE typically reaches €100k once a business exceeds €5m ARR, growing to c.€140k over €50m ARR
Highly resilient: While net revenue retention for Enterprise and SME-focused SaaS is comparable, gross revenue retention for Enterprise is much higher at 95%
Investing for growth: Sales & Marketing costs overtake R&D costs as a proportion of revenue at c.€5m ARR, peaking at 40% of revenue
Optimism remains: Despite macroeconomic uncertainty, over one-third of CEOs surveyed are planning to raise capital in the next 12 months
Key takeaways from European SaaS deal activity
Despite the recent slowdown in European SaaS M&A activity, deal volumes remain above both 2019 and 2020
While fundraise activity declined sharply in Q3 2022, the size of the average fundraise has tripled from 2019 to 2022 YTD
Publicly listed SaaS valuations in Europe and the US have recently converged following a significant divergence since the start of the pandemic
Enquiries
For any enquiries, please contact:
Alexis Scorer, Partner, at alexis.scorer@gpbullhound.com
Joe Tabberer, Director, at joe.tabberer@gpbullhound.com
About GP Bullhound
GP Bullhound is a leading technology advisory and investment firm, providing transaction advice and capital to the world's entrepreneurs and founders. Founded in 1999 in London and Menlo Park, the firm today has 12 offices spanning Europe, the US and Asia. For more information, please visit www.gpbullhound.com.