GLOBAL DIGITAL COMMERCE MARKET PERSPECTIVES Q1 2023
Q1 2023 insights into Digital Commerce.
April 19, 2023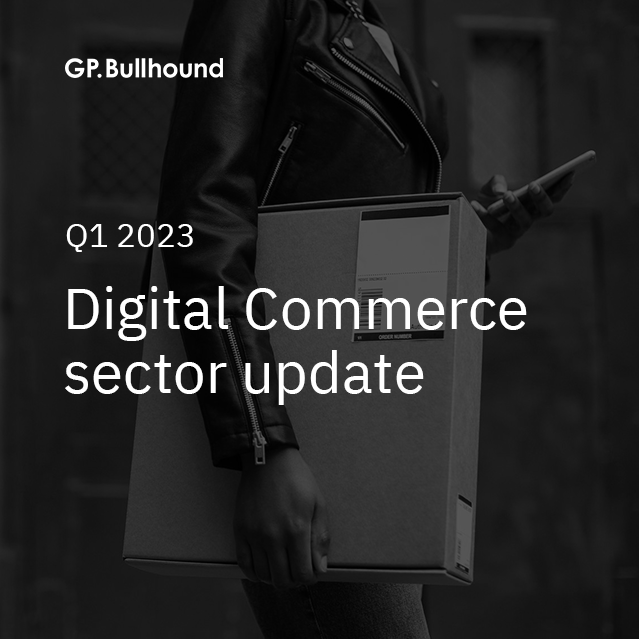 19 April 2023 - GP Bullhound publishes qualitative insights into broader Digital Commerce trends and public and private valuations across the transaction spectrum, and interviews with today's leaders transforming the sector.
Alessandro Casartelli, Executive Director at GP Bullhound, said: "In Q1, we've seen a continuation of several trends. Online pharmacy delivery services are growing as the healthcare industry becomes more digitised; immersive shopping experiences keep rising, enhanced by artificial intelligence; and pressure to become carbon neutral mounts on digital commerce businesses. Despite the challenging dealmaking environment, ecommerce offered investors pockets of opportunities in a relatively quiet first quarter."
Online pharmacy delivery services are growing
The healthcare industry is digitising, and e-prescriptions are driving demand for pharmacy delivery services.
The global prescription delivery service market was $157.1m in 2022 and is likely to hit $396.5m by 2029.
Global players are facing intense competition from innovative startups offering same-day delivery; North America is the largest market with a share of 55% followed by Europe with over 23% market share.
Customer experience and merchandising undergoing a revolution
Enhanced by AI, immersive shopping is growing, improving customer conversion and sustainability.
A Shopify study showed that implementing AR and 3D visualisation tools resulted in a 94% higher conversion rate for online retailers in 2023 and 80% of customers reported higher levels of satisfaction versus traditional online shopping.
With returns reduced by over 40% due to accurate product visualisation, immersive shopping helps retailers save costs and reduces CO2 emissions and packaging waste.
Pressure is on to become carbon neutral
Ecommerce is going carbon-neutral with offset programmes and carbon-neutral shipping; the Climate Neutral Network expects the voluntary carbon market to increase from $300m in 2005 to $50bn by 2030.
Consumer demand for carbon-neutral goods and practices is increasing along with consumer awareness of climate change, and consumers are willing to pay a premium for sustainable products.
Carbon neutrality is fuelling sustainable tech with ecommerce promoting renewable energy, EVs, and eco-friendly packaging.
Enquiries
For enquiries, please contact:
Alessandro Casartelli, Executive Director, at alessandro.casartelli@gpbullhound.com
About GP Bullhound
GP Bullhound is a leading technology advisory and investment firm, providing transaction advice and capital to the world's entrepreneurs and founders. Founded in 1999 in London and Menlo Park, the firm today has 13 offices spanning Europe, the US and Asia. For more information, please visit www.gpbullhound.com.