GLOBAL FINTECH MARKET PERSPECTIVES Q2 2023
Q2 2023 insights into Fintech.
July 27, 2023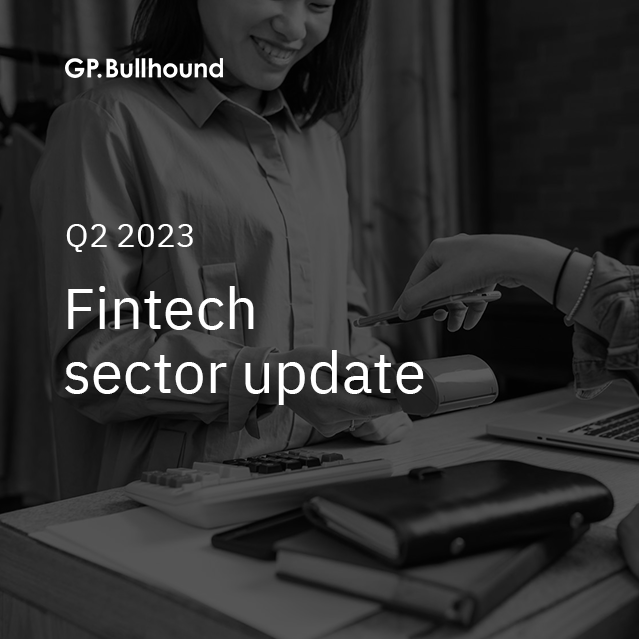 27 July 2023 - GP Bullhound publishes qualitative insights into broader Fintech trends and public and private valuations across the transaction spectrum, and interviews with today's leaders transforming the sector.
Claudio Alvarez, Partner at GP Bullhound, commented: "Several trends emerged across the fintech space in Q2: the sector is catalysing the evolution of ESG, with multiple applications at the intersection of both, including data and analytics, impact reporting, and sustainable investment solutions; the digital payment revolution continues, with more customers than ever owning three or more digital wallets, and, lastly, we are seeing increasing potential for institutions to revisit crypto launches on the back of a solid crypto start this year."
Fintech is catalysing the evolution of an ESG-centric world
The increasing importance of ESG has had a material impact on the Fintech sector
Combining core ESG principles with financial technology has revolutionised the way businesses and investors approach sustainable and responsible practices
The integration of ESG into Fintech has multiple applications, including ESG data and analytics, sustainable investment solutions, impact measurement and reporting, and ESG risk management
Embracing the continued digital payment revolution

The global digital payments market is set to grow at 18% compound annual growth from 2022-2030
The surge of Fintech has paved the way for the rise of digital wallets, a trend that is reshaping consumer habits. Recent statistics indicate that customers own three or more digital wallets, from 18% in 2021 to 30% in 2022
In the US alone households collectively pay c.15 billion bills each year. To streamline this process, mobile banking solutions equipped with push notifications and real-time payment confirmation are in high demand
Institutionals could be positioning for a crypto comeback

The cryptocurrency market is currently experiencing a strong momentum following a solid start in 2023 thanks to changing global macroeconomic conditions and declining inflation data
On the back of this positive sentiment, some institutions are revisiting the opportunity to get exposure to this asset class via Exchange Traded Funds
Many cryptocurrency executives think that BlackRock's proposed ETF could be the first spot bitcoin vehicle to be accepted by the Securities and Exchange Commission (SEC) in the US
Enquiries
For enquiries, please contact Claudio Alvarez, Partner, at claudio.alvarez@gpbullhound.com
About GP Bullhound
GP Bullhound is a leading technology advisory and investment firm, providing transaction advice and capital to the world's best entrepreneurs and founders. Founded in 1999 in London and Menlo Park, the firm today has 14 offices spanning Europe, the US and Asia.