GLOBAL FINTECH MARKET PERSPECTIVES Q4 2022
Q4 2022 insights into Fintech.
January 25, 2023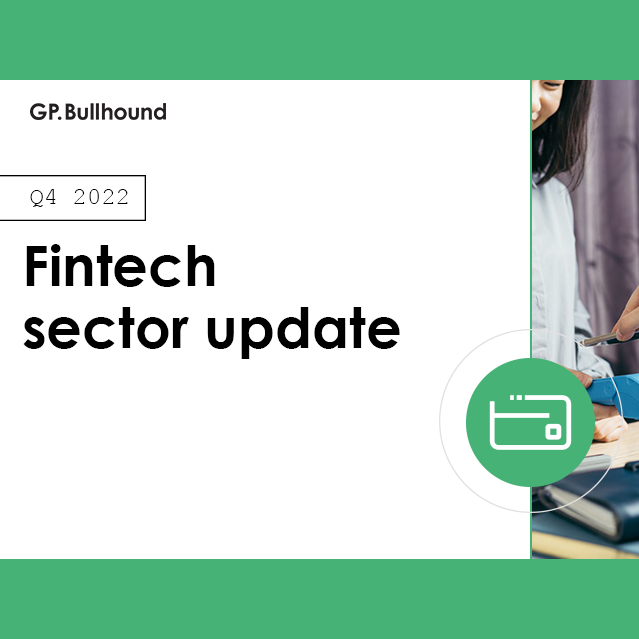 25 January 2023 - GP Bullhound publishes qualitative insights into broader Fintech trends and public and private valuations across the transaction spectrum, and interviews with today's leaders transforming the sector.
Claudio Alvarez, Partner at GP Bullhound, commented: "In Q4, we have seen several key trends: more banks are innovating ACH payments – with or without fintechs – to remain competitive; increasing number of countries globally are exploring central bank digital currencies; and AI/ML adoption in credit scoring processes is on the rise. On the dealmaking side, online lenders and credit providers successfully raised capital. Fintech equities remained stable, with Financial Data & Analytics the best performing sub-sector."
What's trending this quarter in Fintech?
Banks innovate automated clearing house payments to remain competitive
Pay by Bank leverages open banking to facilitate payments between trusted parties without the need for a card. The payment method has several benefits including improved security, automated customer onboarding for merchants and reduced processing costs
Recently, banks have established partnerships, with and without fintechs, to roll-out a Pay by Bank solution to ensure their payments offering remains competitive
The future of central banks – is it digital?
114 countries globally, representing over 95% of global GDP, are exploring Central Bank Digital Currencies
Increased adoption of blockchain-enabled solutions and mass transition to a cashless ecosystem is catalysing the proliferation of digital currencies
With multiple pilot programmes being held by both the Bank of England and the European Central Bank, implementation and dynamics are under question
AI and ML adoption in credit scoring processes on the rise
Artificial intelligence and machine learning have become increasingly popular in credit scoring processes within the fintech industry in recent years
By using alternative data sources, improving efficiency and speed, and personalising credit decisions, fintech companies can make more accurate and efficient credit decisions and improve the customer experience
Enquiries
For enquiries, please contact Claudio Alvarez, Partner, at claudio.alvarez@gpbullhound.com
About GP Bullhound
GP Bullhound is a leading technology advisory and investment firm, providing transaction advice and capital to the world's best entrepreneurs and founders. Founded in 1999 in London and Menlo Park, the firm today has 13 offices spanning Europe, the US and Asia. For more information, please visit www.gpbullhound.com.