THE VIEW FROM HUGH CAMPBELL, CO-FOUNDER & MANAGING PARTNER, GP BULLHOUND
Thoughts from the Northern Tech Awards 2022.
July 01, 2022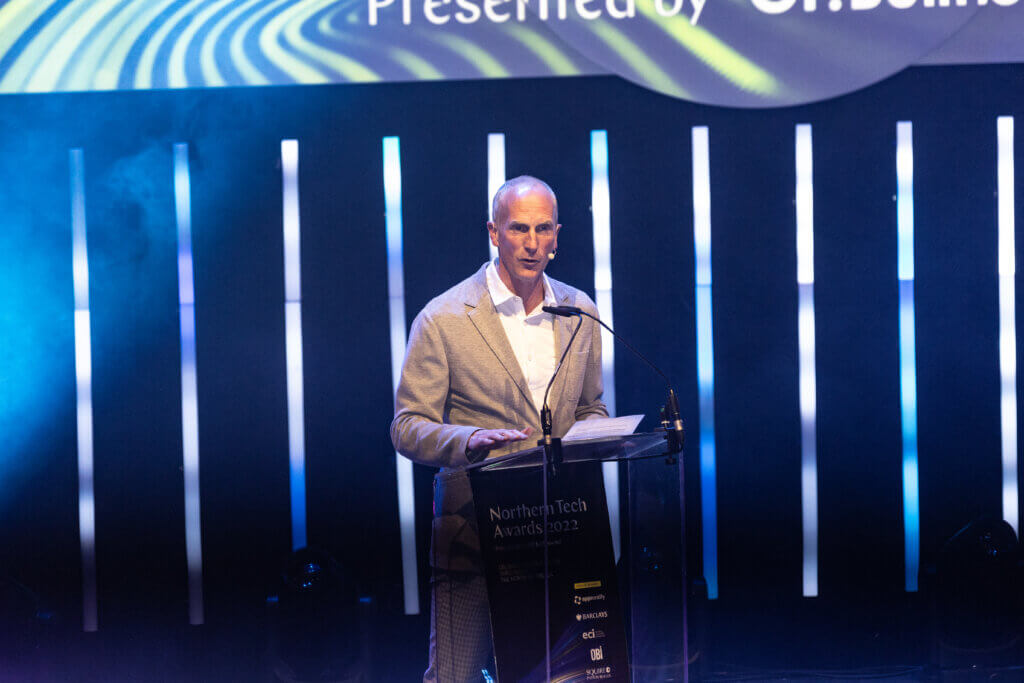 1 July 2022 - This text was originally delivered as a speech at the Northern Tech Awards 2022, which was hosted by GP Bullhound on 16 June 2022 in Manchester. The annual event aims to celebrate leading technology businesses headquartered in the North of England and Scotland.
Due to the pandemic, the previous edition of the Northern Tech Awards was postponed and ended up being held in Leeds in November 2021, 6 months ago, just before Omnicron struck and the Great Tech Sell off. If only we knew then what we know now. We were at peak tech, with the NASDAQ at 16,000 – now it stands at 11,000, down 35%. And many tech stocks have fared much, much worse.
But putting the public markets to one side for a moment, we continue to see an incredibly strong
run of funding rounds and M&A for businesses in our community. Just amongst the previous winners at these awards we've had TVSquared in Edinburgh which sold to Innovid for $160m. Crisp in Leeds has just sold to Kroll for a large but undisclosed sum. And the LADbibe IPO, back in December, priced at £360m. And we are not just selling but buying too with Sykes continuing their shopping spree with acquisition after acquisition.
Turning to the earlier stage the Northern Gritstone fund is great news for spin-outs looking to
commercialise world-class research coming out of the region's universities. This week also saw
the launch of Manchester Angels to provide capital and support to the city's best start-ups.
Whether you were raising venture capital, selling your business, or floating it on the stock
exchange, the incredible bull run we've been living through made it feel like momentum in tech
was unstoppable.
Fast-forward a few months and reading the news makes me think of what Sequoia famously told
its portfolio in 2008 – 'RIP Good Times'. In recent months, the regular drumbeat of negativity has been driven by the horrific war in Ukraine, the scary reality of inflation, rising interest rates and the worrying cost of living crisis. There is no quick fix to this, I'm afraid. But there are a lot more reasons to be positive than you would expect. This is a time for hard work and patience. It is not a time to panic. For example, the advertising market, often the bellweather for the wider economy, is forecast to be up 9% in 2022. Unemployment is now as low as 3% – a level we have not seen for 50 years, and with over 1m open vacancies – it feels like there are jobs for those that want them.
Of course, VC funding is lower, but activity remains well above historical norms. Global VC funding
in May was $40bn, below the Nov 21 peak of $70bn but still a huge number. Late stage mega rounds have taken the brunt of the decrease, bringing to an end the Unicorn bonanza, as institutional interlopers more used to public investing exit stage left.
Meanwhile, big tech is crushing it with huge profits leading to huge warchests of cash, Apple
could do a $100bn buyback without missing a beat. In my experience, this group continue to buy
through the cycle – and why wouldn't you, with valuations so much lower? And private equity buyout activity in the tech space has continued. Global funds continue to bet on the region's founders with Matillion topping up their latest round with money from Citi Ventures and Snowflake. We also have Paul Ng from EDBI in the room, a large Singaporean fund, committed to investing in European businesses with an ambition to grow in Asia.
Here at GP Bullhound, deal activity remains at record levels and we dipped our toe in to the public
markets with the launch of our first SPAC, raising €200m on Euronext in Amsterdam. We are also
on the road raising for Fund VI, taking our assets under management to over €1bn. And whilst no-one would wish for layoffs – the bloodletting going on at Klarna, Cazoo and Coinbase may make it easier for you to hire much needed talent. With share prices collapsing, just imagine how many options are underwater and how many demotivated staff are looking for their next, exciting gig.
We can't of course ignore what's going in the broader economy. Free money is gone. Saas
valuations are back to levels not seen since 2017, 5x is the old 15x. And whilst valuations remain robust for faster growing companies, particularly in the B2B space, it is tough for those growing more slowly and those reliant on consumer discretionary spend. Funds are having to make huge write downs themselves, Softbank and Tiger Global just being the public faces of an embarrassing mea culpa for the investment industry. The loyalty of tourist investors to private capital is being tested like never before.
For many, common sense will require CEOs to throttle back growth – we had the Great Recession,
Great Resignation and now the Great Belt Tightening – companies with poor business models and
poor unit economics will get exposed. Where investor priorities had been Growth, Growth and
Growth, its now Growth, Profitability, and Cash. Many companies are very well funded and have breathing space – those that are not need to play for time, and eek out their cash runway.
The tougher market conditions may mean we all have to push our ambitious plans back a few years. With the lurch from crisis to crisis, it can feel like groundhog day – we had Brexit, followed by Covid-19, followed by geopolitical shocks, followed by soaring inflation. I mean, there's always something. I can remember 1999, when the great crisis was the Millennium Bug! We all thought computers would shut down. There was talk of grounding planes, mass power cuts and social unrest. But it's never quite as bad as the media would have us believe. We humans have a habit of making the best of things. We've got to accept that crises are the backdrop to business life today. Waiting for better times or complaining aren't really options for founders if you are trying to change the world.
So as leaders, we should make time to unplug, and look after our own mental wellbeing – for some
that's meditation, for me its running with my dog Scout, for others its cooking. Sometimes, you need to pause to focus on what's most important for you rather than for your business as the two can't work without each other. We have some huge challenges. And we need to be fighting fit.
Technology matters so much more now. We've all been inspired by President Zelensky's masterful use of social media to communicate with his people and the world. Also in Ukraine, we've seen evidence gathered from Twitter, Instagram, and TikTok helping a band of open-source intelligence researchers document Russia's movements and collect important evidence of possible war crimes. But social media is also posing huge societal challenges too. Whether it is in privacy and fake news characterised by Elon Musk's battle for Twitter or social media's role in youth mental health.
And what about where we live – the ageing Abba would have us believe that the key to immortality is an avatar in the metaverse, Blue Origin and SpaceX would say it's all about living on other planets. Many of the themes we are working on are huge, world-changing ideas and others are incredibly durable. These growth areas won't be reversed by GDP moving up or down a couple of percent. No doubt, the coming months will test our resilience once again – but as the Sage of Omaha, Warren Buffet, once said – it is only when the tide goes out do you discover who's been swimming naked.
For more information about the Northern Tech Awards, please visit https://www.gpbullhound.com/events/northern-tech-awards/.
About GP Bullhound
GP Bullhound is a leading technology advisory and investment firm, providing transaction advice and capital to the world's best entrepreneurs and founders. Founded in 1999 in London and Menlo Park, the firm today has 12 offices spanning Europe, the US and Asia. For more information, please visit www.gpbullhound.com.