1 February 2021 - Although 2020 was a year of much turmoil and economies are still grappling with how to deal with COVID, we saw significant acceleration in the digital consumption of goods, services, and content. This shift in consumption is seeing an ever-growing list of payment solutions and embedded finance providers not only expanding the ecosystem in which consumers and merchants interact, but also driving investors to venture that this shift is permanent and will continue to be a source of supernormal growth.
2020 saw online payment platforms such as Checkout.com, Marqueta, Stripe, d.local, Mollie and GoCardless, amongst others, raise an aggregate of $1.3bn in the Buy Now Pay Later (BNPL) space, Klarna raised $650m at an $11bn valuation, double its valuation in 2019, while Affirm raised a pre-IPO round of $500m in September 2020 and then went public in January 2021 with a valuation of more than $23bn. Afterpay, the other publicly listed BNPL provider, saw its shares rise by more than 2x to a market cap of $AUD36bn by the end of 2020.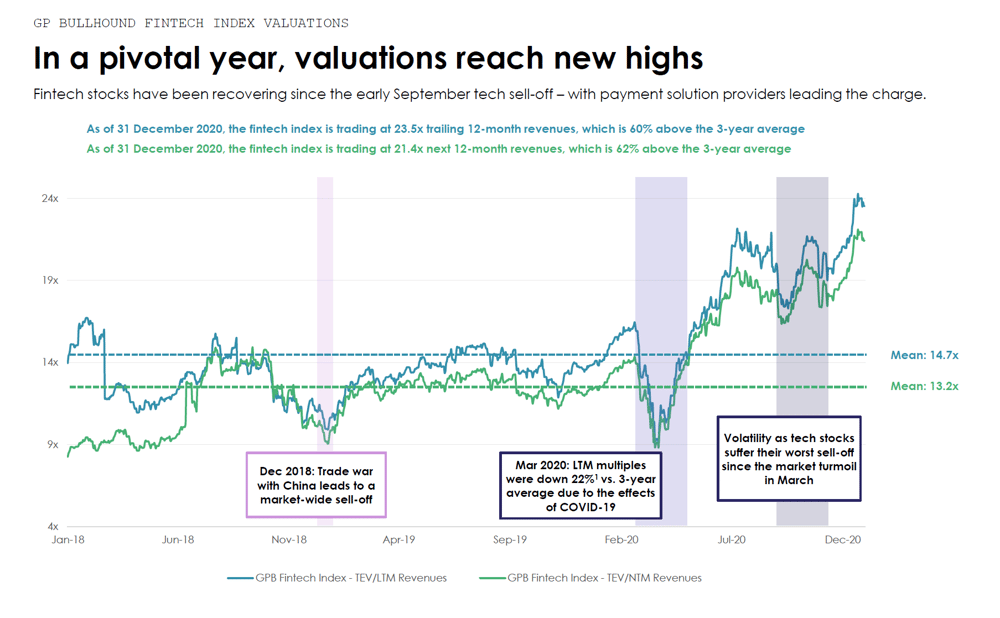 We expect embedded finance providers and digital payment solutions to continue to dominate investor mindshare in 2021 as these companies take advantage of data models, agile software infrastructure and continued consumer demand to remove purchase hurdles, which merchants can benefit from.
Claudio Alvarez, Partner and Head of Fintech at GP Bullhound, comments: "Our fintech deal pipeline continues to benefit from the digital economy coming into the fore and new services and solutions being created around digital experience. For example, a bank moving its core platform to the cloud to take advantage of a more nimble infrastructure and moving data to an intelligent payment solution, enabling further consumption of digital goods and services. We look forward to partnering with more category leaders and backing great fintech entrepreneurs."
Read more about GP Bullhound's latest Fintech transactions, investments, insights and news here.
Enquiries
For enquiries, please contact:
Claudio Alvarez, Partner and Head of Fintech. [email protected]
About GP Bullhound
GP Bullhound is a leading technology advisory and investment firm, providing transaction advice and capital to the world's best entrepreneurs and founders. Founded in 1999, the firm today has offices in London, San Francisco, Stockholm, Berlin, Manchester, Paris, Hong Kong, Madrid and New York. For more information, please visit www.gpbullhound.com