Consumer Subscription Software Insights 2021
Spinning the CSS flywheel to delight consumers.
September 22, 2021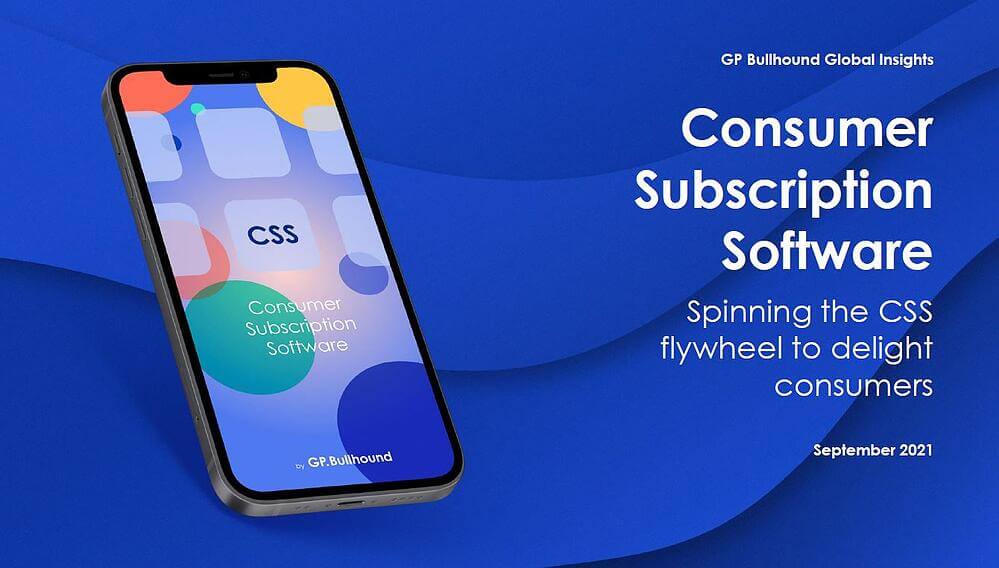 24 September 2021 - GP Bullhound today publishes its annual research report on the Consumer Subscription Software ("CSS") ecosystem. In this year's report we explore how the transition to subscription services will carry on as entrepreneurs continue to roll out valuable offerings to help consumers improve their everyday lives.
Eric Crowley, Executive Director at GP Bullhound, comments: "Fast-forward three years, most people will have 5-10 different CSS business subscriptions. Entrepreneurs are continuing to build better products, and consumers are seeing value in these services because for many of us, the idea of paying $30 per year to improve one's life is very appealing."

Alec Dafferner, Partner at GP Bullhound, adds: "We believe that the CSS business model enables companies to rapidly scale with attractive margins while also providing a compelling consumer value proposition. We are excited to help guide CSS companies through the next chapter of their evolution."
What you'll find in this year's report:
• Market update: GP Bullhound's CSS Index shows private consumer companies are set to drive lively IPO market in 2021-2022.
• Key CSS insights: From our CSS flywheel to Western / Eastern models, here's what you need to know to drive a premium valuation.
• Current CSS ecosystem: Learn more about how niche end-verticals highlight a broad landscape and the latest trends.
• CSS metrics to watch: We show you how to get the fundamentals right from the start, what investors focus on and the key nuances.
CSS Survey – We want to hear from you! Take our 2021 CSS Survey here.
How do you stack up? We aim to answer that by asking CSS company owners and investors to take our short online survey so we can learn more about your business for benchmarking purposes. All data will be aggregated and kept anonymous. Once we crunch the numbers, we'll send all survey participants the results.

Enquiries
For enquiries, please contact:
Eric Crowley, Executive Director, at eric.crowley@gpbullhound.com
GP Bullhound Research team, at research@gpbullhound.com
About GP Bullhound
GP Bullhound is a leading technology advisory and investment firm, providing transaction advice and capital to the world's best entrepreneurs and founders. Founded in 1999 in London and Menlo Park, the firm today has 10 offices spanning Europe, the US and Asia. For more information, please visit www.gpbullhound.com