GP Bullhound releases annual report on Consumer Subscription Software Insights
Consumer Subscription Software 2022 – The Evolution of CSS.
September 26, 2022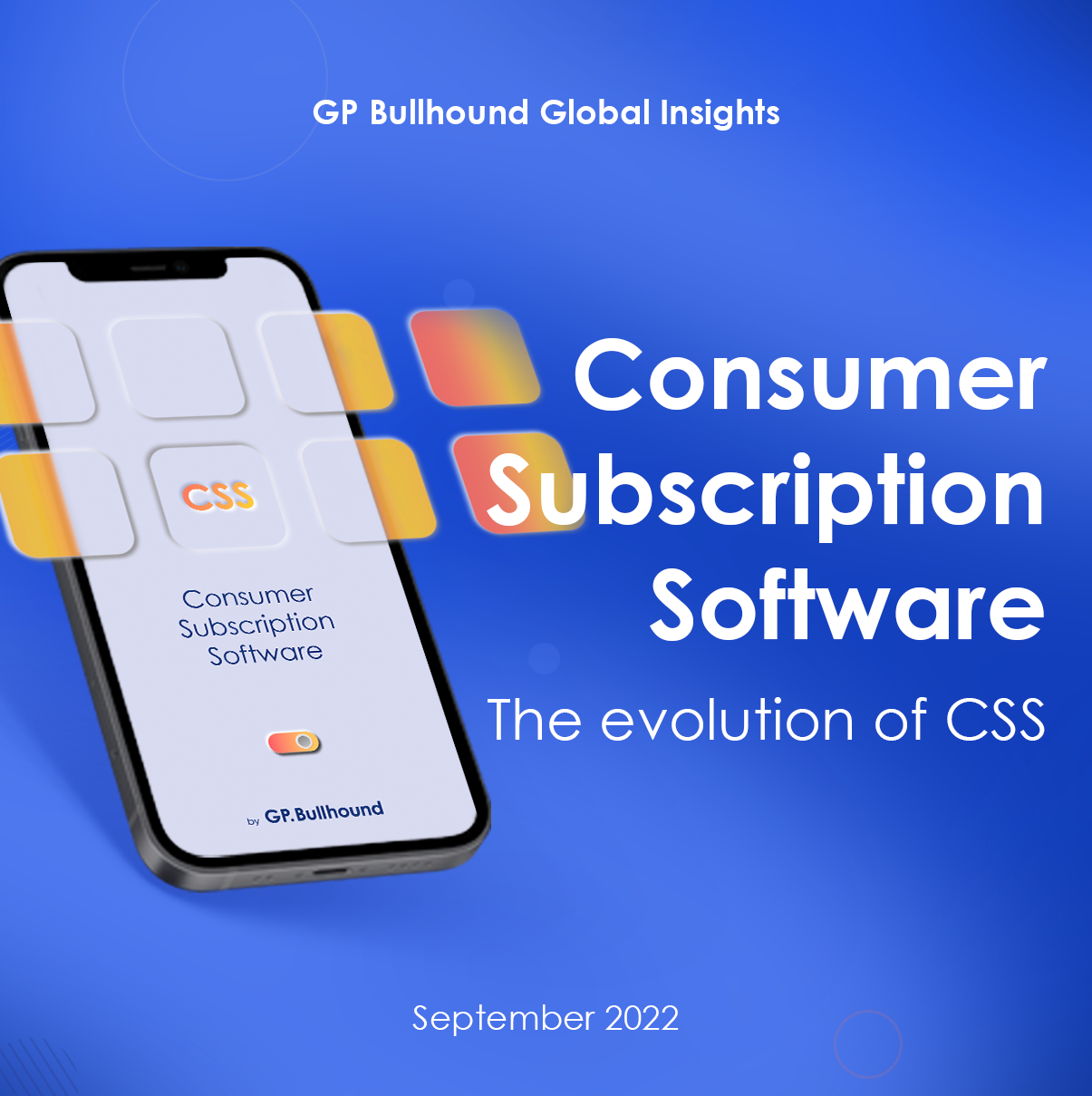 26 September 2022 - GP Bullhound has released its Consumer Subscription Software 2022 report, where we highlight the trends influencing the CSS ecosystem, how the consumer subscription markets are changing, and what KPIs company builders should focus on as they grow their business as well as how they should position for growth investors and potential buyers in turbulent markets.
Eric Crowley, Partner at GP Bullhound, San Francisco, commented: "The CSS ecosystem continues to mature as consumers demand high-quality digital services and entrepreneurs continue to integrate user generated content, social and sensor features to drive value and increase organic interest and retention."
Joakim Dal, Partner at GP Bullhound, Stockholm, added: "To build your position as a partner with the user, your relationship can't just be transactional. You need to provide a utility that drives engagement over many years and an organic re-activation of users. The subscription model fits perfectly with this use case, but it can be monetised in a variety of ways. Amazon, Prime, Netflix, Spotify, Strava, Vivino, YouTube, Whoop, and Patreon are examples of this."
Market update
• The security landscape is increasing as consumers demand apps that mirror their desktop counterparts
• Apple's search ad business is cutting into Meta, Snap and other ad networks; its in-house ads were responsible for 50% of app downloads in 2022 (20% in April 2021)
• US App Store revenue from non-game apps has topped games for the first time – at least 12 have consumer spending of $50m+
• iOS 15 and privacy demands have hampered growth and led to higher than expected losses for many CSS businesses; long-term the industry should benefit from new methods of tracking data and driving growth
• 46 million subscriptions were cancelled LTM, with cost as the main reason up 20% since October 2021
• GP Bullhound's CSS Index underscores the market turbulence, but M&A and private financing remain robust
CSS insights to drive a premium valuation
• A key valuation driver for investors is 'winner-takes-all in CSS apps'
• Shift to Web Stores due to low commission rates and high dollar retention
• Subscriber renewal rates differ by subscription type – RevenueCat data shows first-year renewals between 17% and 40%
• Web3 consumer companies can quickly scale, but retention and long-term viability remain to be shown
• Femtech and family-focused apps are flourishing, but privacy should be addressed
CSS ecosystem and metrics to watch
• Entertainment: still-strong growth users, but large incumbents like Netflix are looking for new ways to attract users to platforms
• Fitness/Recreation: remains a leader in converting freemium users to paid
• EdTech: solidifying its new place in the hybrid classroom environment
• Family/dating: drastic increase in use as popular dating spots open
• The pool of investors is ever-increasing: venture builders should focus on low customer acquisition cost (CAC) and long-term retention to illustrate their staying potential
Views from venture builders
• Amy Thomson, Founder of Moody Month
• Tamsin Todd, CEO of Findmypast
• Andy Robinowitz, CEO of RV LIFE
• Brian Kidwell, Co-founder & CEO of Scott's Cheap Flights
• Investor Ben Futoriansky, Cobalt Capital
Enquiries
For enquiries, please contact:
Eric Crowley, Partner, at eric.crowley@gpbullhound.com
About GP Bullhound
GP Bullhound is a leading technology advisory and investment firm, providing transaction advice and capital to the world's best entrepreneurs and founders. Founded in 1999 in London and Menlo Park, the firm today has 12 offices spanning Europe, the US and Asia. For more information, please visit www.gpbullhound.com.