GP BULLHOUND DIGITAL MEDIA MARKET PERSPECTIVES Q2 2022
Q2 2022 insights into Digital Media.
July 20, 2022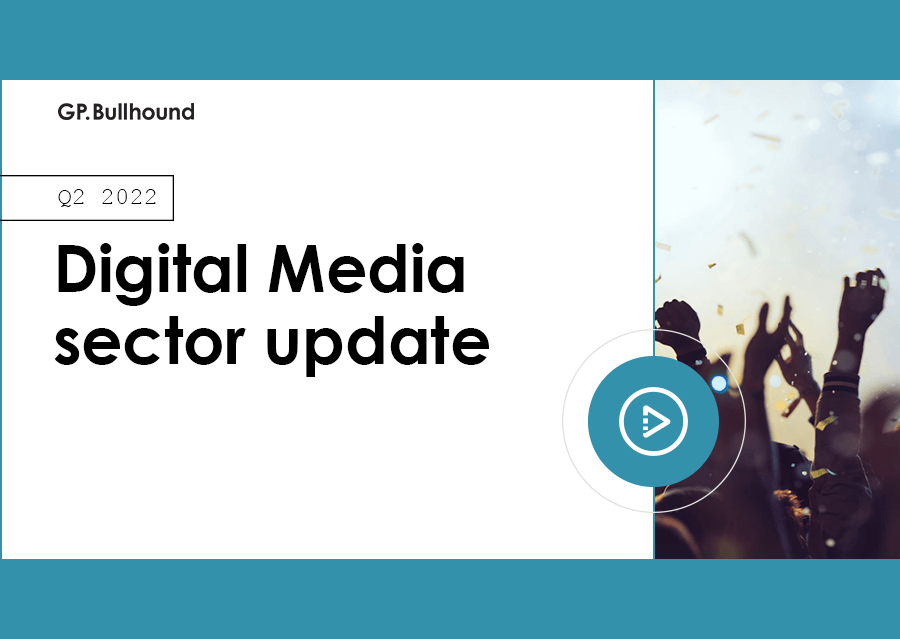 20 July 2022 - GP Bullhound publishes qualitative insights into broader Digital Media trends and public and private valuations across the transaction spectrum, and interviews with today's leaders transforming the sector.
Alec Dafferner, Partner at GP Bullhound, said: "We are seeing various trends shaping the Digital Media landscape in Q2. With the global gaming sector's continued growth, the opportunity is ripe for in-game advertisers to make their mark with creative campaigns. In the age of streaming, music creators and record labels are coming to terms with new rules shaped by social media platforms, but the burden of chasing internet fame has taken a toll on many artists. Lastly, social media stocks have been significantly impacted due to strategy shifts, earnings misses, and a general slump in the space caused by the current market downturn. Activity on the investment side remains healthy, with the pace and size of investments sustaining as global consumption of digital media increases."
Enquiries
For enquiries, please contact Alec Dafferner, Partner, at alec.dafferner@gpbullhound.com
About GP Bullhound
GP Bullhound is a leading technology advisory and investment firm, providing transaction advice and capital to the world's best entrepreneurs and founders. Founded in 1999 in London and Menlo Park, the firm today has 12 offices spanning Europe, the US and Asia. For more information, please visit www.gpbullhound.com.