GP BULLHOUND DIGITAL MEDIA MARKET PERSPECTIVES Q4 2022
Q4 2022 insights into Digital Media.
January 25, 2023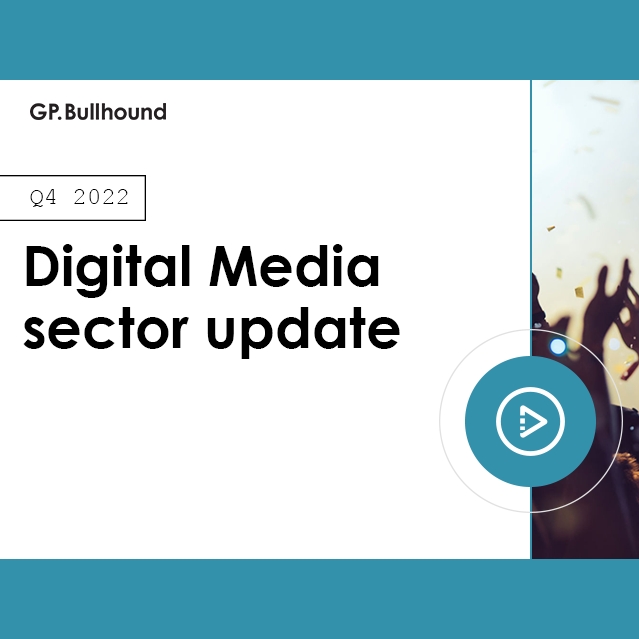 25 January 2023 - GP Bullhound publishes qualitative insights into broader Digital Media trends and public and private valuations across the transaction spectrum, and interviews with today's leaders transforming the sector.
Alec Dafferner, Partner at GP Bullhound, said: "We have seen various trends shaping the Digital Media landscape in Q4. While Twitter deals with dysfunction following Elon Musk's takeover, new players are vying to lure its users over to their platforms. Some big digital media companies are facing US government crackdowns, as national security and monopolisation concerns rise. Hypercasual games are enjoying a revival, with several notable transactions closing in Q4. There was an uptick in equity performance in Q4, with Western gaming an obvious leader. As inflation fears calm, digital media indices will benefit, though the macroenvironment remains uncertain."
What's trending this quarter in Digital Media?
US agencies tighten regulations
US regulators and government officials have begun cracking down on major digital media companies
Increasing concerns over user privacy, homeland security, and anticompetitive transactions have caused backlash
While the FTC has fined Epic Games and seeks to block the Microsoft / Activision deal, several government officials call for a ban on TikTok
New players vye for Twitter's spot
Elon Musk's takeover of Twitter was a rocky process filled with legal battles and a shake-up in the tech firm's culture
A number of competitors have risen to take advantage of Twitter's challenging period – seeking to capture its market share
Its biggest rival, Mastodon, has grown eight-fold but Twitter remains far larger at almost 100x Mastodon's size
Hypercasual gaming remains active
Hypercasual games have become a staple on the mobile app stores
While activity in the space has fluctuated, 2022 saw increased global revenue growth of 21% and ~200 M&A deals worldwide
Factors like lower development costs, high user acquisition, and engagement make hypercasual games an attractive advertising medium
Enquiries
For enquiries, please contact Alec Dafferner, Partner, at alec.dafferner@gpbullhound.com
About GP Bullhound
GP Bullhound is a leading technology advisory and investment firm, providing transaction advice and capital to the world's best entrepreneurs and founders. Founded in 1999 in London and Menlo Park, the firm today has 13 offices spanning Europe, the US and Asia. For more information, please visit www.gpbullhound.com.