GLOBAL SOFTWARE MARKET PERSPECTIVES Q1 2023
Q1 2023 insights into Software.
April 19, 2023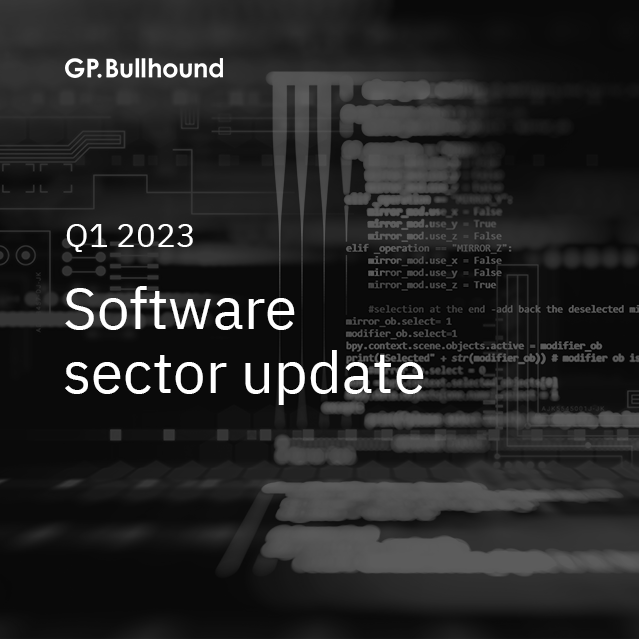 19 April 2023 - GP Bullhound publishes qualitative insights into broader Software trends and public and private valuations across the transaction spectrum, and interviews with today's leaders transforming the sector.
Jonathan Cantwell, Partner & Head of Software at GP Bullhound, said: "In our latest report, we have highlighted the key software trends in Q1 2023. Organisations are increasingly turning to "digital twins" to simulate supply chains, CDPs are expanding far beyond traditional marketing use cases, cost optimisation software is pervasive as businesses tighten their belts, and SaaS companies are adopting first- or third-party training tools and services to help with retention via customisable offerings."
Matt Stamp, Partner in the Software team at GP Bullhound, commented: "On the dealmaking side – and along with the broader market – we've witnessed a continued pull-back in Software sector activity. However, Q1 has seen an improvement in public valuations and assuming this stability continues, we expect pent-up demand and ample dry powder to drive deployment with a focus on higher quality assets."
Strengthening the supply chain
Organisations are turning to "digital twins" to digitally model and simulate supply chains to streamline supply chain design, enabling decision makers to react and adapt to real-time supply chain information.
There is a unique opportunity for companies specialising in digital twins to enter the supply chain vertical or partner up with an existing player; the market for global "digital twins" was $11bn in 2022 with a CAGR of 37.5%.
Innovative companies in the space include Coupa, which was recently acquired by Thoma Bravo for $8bn, and Blue Yonder, recently acquired by Panasonic for $7bn.
Data Swiss Army knife
Customer Data Platforms (CDPs) have expanded from traditional marketing use cases and are now one of the most important components of an organisation's tech stack.
The combination of these new CDPs with AI / ML for enriched customer profiles is an opportunity to future proof marketing efforts for real-time, predictive analytics, improving marketing ROI.
Companies that have built pureplay CDPs have many growth opportunities, such as vertical specification, APIs for integration, app ecosystems, privacy and data compliance, and broader data management solutions.
Cost optimisation
Cost optimisation software has become top of mind thanks to a new period of financial austerity for tech in addition to rising costs due to inflation.
With a CAGR of 10.1%, the global cost optimisation software market is set to surpass $29bn in 2028.
Coupa is a leader in cost optimisation with its focus on supply chain / logistics, having acquired Llamasoft before its buyout by Thoma Bravo.
Enquiries
For any enquiries, please contact:
Jonathan Cantwell, Partner (US), at jonathan.cantwell@gpbullhound.com
Matt Stamp, Partner (Europe), at matt.stamp@gpbullhound.com
About GP Bullhound
GP Bullhound is a leading technology advisory and investment firm, providing transaction advice and capital to the world's entrepreneurs and founders. Founded in 1999 in London and Menlo Park, the firm today has 13 offices spanning Europe, the US and Asia. For more information, please visit www.gpbullhound.com.