GLOBAL SOFTWARE MARKET PERSPECTIVES Q2 2023
Q2 2023 insights into Software.
July 20, 2023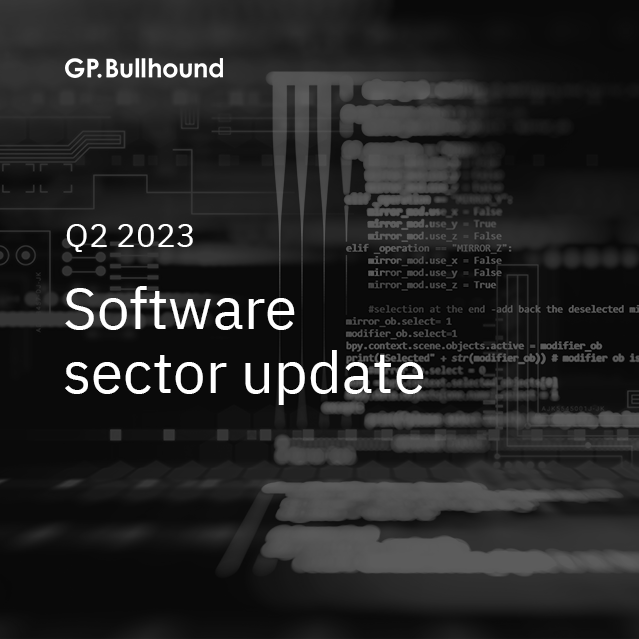 20 July 2023 - GP Bullhound publishes qualitative insights into broader Software trends and public and private valuations across the transaction spectrum, and interviews with today's leaders transforming the sector.
Jonathan Cantwell, Partner & Head of Software at GP Bullhound, said: "In Q2, we have seen several artificial intelligence and ESG trends drive the software sector. Rising tides in AI and ESG are the biggest needle movers in the space right now. Software consolidators and investors are looking to back the best-in-breed disruptors with differentiated AI technology. ESG has become a must-have, not a need-to-have, for all enterprises worldwide."

Matt Stamp, Partner in the Software team at GP Bullhound, commented: "Global dealmaking began to stabilise in Q2, showing early signs of recovery, as global M&A/buyout values and private placements started to bounce back slowly. Tech is officially in a bull market since December lows, as valuations continue to stabilise and the likelihood of a recession softens."


Rising tides in AI soften concerns for edge computing
Edge computing market, globally, is likely to reach $140bn by 2030, at a CAGR of 36% from 2023 given the increased use of edge devices
Commonly thought of as a data security and privacy risk, the implementation of AI, particularly generative AI (which sits directly at the server's edge) is limiting the need to share and or transfer data to a cloud server
Coupled with the growing need to obtain analytics and insights at a faster pace, businesses have begun to leverage the capabilities of AI within their edge computing systems to improve efficiency and speed up the automation of analytics and insights
Rise in tech-enabled microservices: digital solution to global supply chain challenges
As businesses continue to face supply chain challenges due to labour shortages and wage increases, a microservice-based approach to supply chain management is rising in popularity due to its compatibility with digital-first solutions
The tech-enabled microservices market is likely to reach $3bn in 2028, representing a CAGR of 22% from 2023. Blue Yonder is one such example, using tech-enabled microservices to provide insights into customer orders, inventory, and labour supply
According to a 2022 report by Solo.io, 85% of companies are actively looking to modernise their supply chain architecture, in order to utilise tech-enabled microservices
The unintended result from the rise of complex language models
There's been a surprise shift in the data strategy big social media platforms are taking regarding the accessibility of their APIs
For example, Reddit recently followed in Twitter's footsteps by removing unpaid access to its Data API. The move was aimed at preventing AI companies from freely scraping and leveraging Reddit's content, for the purpose of training complex language models
It's ushering in an exciting new era for the DaaS market, as it continues to evolve, already primed to reach $68bn by 2030 (37% CAGR from 2022)
Enquiries
For any enquiries, please contact:
Jonathan Cantwell, Partner (US), at jonathan.cantwell@gpbullhound.com
Matt Stamp, Partner (Europe), at matt.stamp@gpbullhound.com
About GP Bullhound
GP Bullhound is a leading technology advisory and investment firm, providing transaction advice and capital to the world's entrepreneurs and founders. Founded in 1999 in London and Menlo Park, the firm today has 14 offices spanning Europe, the US and Asia.