GLOBAL SOFTWARE MARKET PERSPECTIVES Q3 2023
Q3 2023 insights into Software
November 05, 2023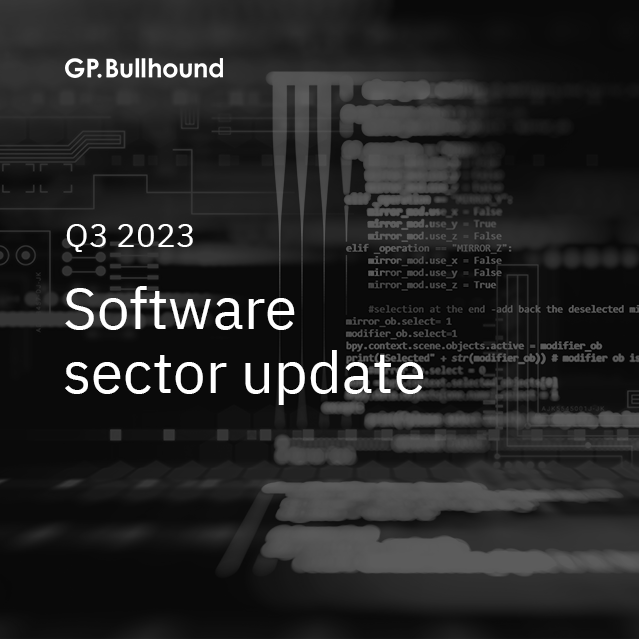 6 November - GP Bullhound publishes qualitative insights into broader Software trends and public and private valuations across the transaction spectrum, and interviews with today's leaders transforming the sector.
Jonathan Cantwell, Partner & Head of Software at GP Bullhound, said: "In Q3, we have seen several trends drive the SaaS sector. Identity and Access Management solutions are becoming more prominent, as businesses face ongoing cybersecurity attacks; the sports management software sector is growing, with businesses seeking to streamline operations and engage fans; the BPM market is harnessing AI to refine processes, leading to better resource allocation. All being driven by multi-tenant SaaS solutions at the enterprise."

Matt Stamp, Partner in the Software team at GP Bullhound, commented: "While global SaaS deal volumes continue to be subdued in Q3, market sentiment is improving in both public and private markets with SaaS IPOs back on the agenda. Both Klaviyo's IPO and Splunk's acquisition by Cisco are two examples of that sentiment which we expect to push into Q4 and 2024."
Identity and Access Management solutions rising
The global IAM market size is likely to grow from $15.7bn in 2023 to $32.6bn by 2028, representing a CAGR of 15.6%
Accenture partnered with Identity Security company, CyberArk, to manage approved access across on-premises, cloud, and hybrid infrastructures. Oracle took similar steps to improve client governance and accessibility to data
Growing importance of threat intelligence platforms
The global threat intelligence market stood at $4.2bn in 2022, looking to expand from $4.9bn in 2023 to $18bn by 2030
Cyber threats are constantly evolving and threat intelligence programs adapt to these changes by gathering, analysing, and updating information about emerging risks
The advance of sports tech
The sports management software sector is experiencing robust growth, driven by increased demand from sports organisations seeking advanced solutions for streamlined operations and enhanced fan engagement
By harnessing advanced analytics and artificial intelligence, these solutions are revolutionising the operations of sports organisations, providing a comprehensive range of products and capabilities
Enquiries
For enquiries, please contact Jonathan Cantwell, Partner, at jonathan.cantwell@gpbullhound.com
About GP Bullhound
GP Bullhound is a leading technology advisory and investment firm, providing transaction advice and capital to the world's best entrepreneurs and founders. Founded in 1999 in London and Menlo Park, the firm today has 14 offices spanning Europe, the US and Asia.