GLOBAL DIGITAL SERVICES MARKET PERSPECTIVES Q1 2023
Q1 2023 insights into Digital Services.
April 19, 2023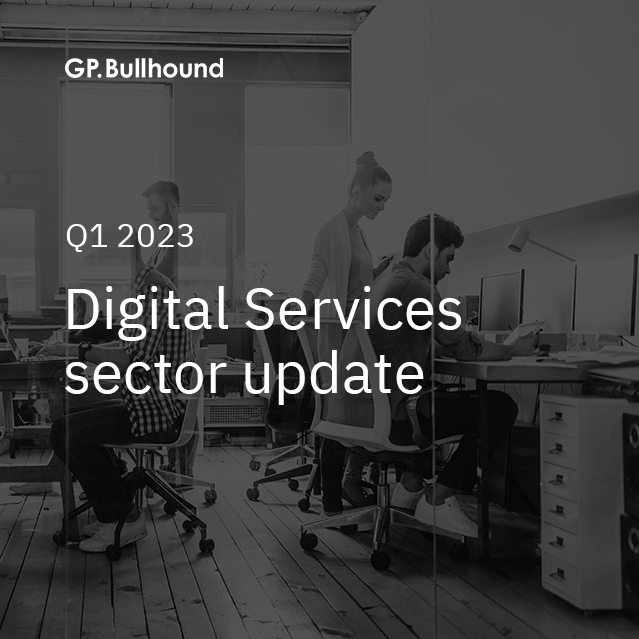 19 April 2023 - GP Bullhound publishes qualitative insights into broader Digital Services trends and public and private valuations across the transaction spectrum, and interviews with today's leaders transforming the sector.
Oliver Schweitzer and Ravi Ghedia, Executive Directors at GP Bullhound, said: "We have seen various trends shaping the Digital Services landscape in Q1. Customer Data Platforms and related services are growing in importance amid rapidly increasing volume, sources, and types of customer data; demand for content marketing agencies is rising, as brands seek new audiences; and digital marketing agencies globally are racing to launch Generative AI-aided services for customers. On the dealmaking side, a high volume of Q1 deals shows activity rebound to its highest level since pre-pandemic, following a muted end of H2 2022."
CDPs growing in importance amid rapidly increasing customer data
Customer information has been spread across disparate company systems / functions; the problems have only been compounded by structured and unstructured data from growing digital data sources.
Customer Data Platforms (CDP) import, centralise and disseminate data from all sources to create a holistic view of customers – using AI, CDPs also update pattern recognition and predict customer behaviour.
The market is seeing high competition from large traditional marketing software firms and well-funded players, but digital services providers are in demand to help clients implement CPDs and leverage data for seamless CX with maximised ROI.
Content marketing continues to be a high priority for brands
Audiences interact with brands across an increasing number of channels, but only for short moments; brands must continue to create engaging and relevant content, leading to increasing demand for content marketing agencies.
According to Statista, global content marketing revenue is set for a 14%+ CAGR from 2022 to 2026, reaching $108bn by 2026.
While content production consolidation continues, influencer marketing is becoming important as shown by the acquisitions of Goat Agency and Obviously by WPP in March 2023.
Market ready for digital services businesses to utilise Generative AI for clients
Digital services providers globally are in a race to launch their AI-aided services, with potential applications like content creation, personalisation, customer service, product innovation, and increased productivity.
Recent examples include DEPT's launch of its AI-focused practice (DEPT®/AI), DDB announcing its AI-based tool for generating creative proposals (The Uncreative Agency) and Media.Monks looking to build an AI creative client proposition.
Investor appetite remains strong for software applications that enable users to interact with devices using natural language and digital services providers are also looking into acquiring vertical AI capabilities.
Enquiries
For enquiries, please contact:
Oliver Schweitzer, Executive Director (US), at oliver.schweitzer@gpbullhound.com
Ravi Ghedia, Director (Europe), at ravi.ghedia@gpbullhound.com
About GP Bullhound
GP Bullhound is a leading technology advisory and investment firm, providing transaction advice and capital to the world's best entrepreneurs and founders. Founded in 1999 in London and Menlo Park, the firm today has 13 offices spanning Europe, the US and Asia. For more information, please visit www.gpbullhound.com.