GLOBAL DIGITAL SERVICES MARKET PERSPECTIVES Q4 2021
Q4 2021 insights into Digital Services.
January 18, 2022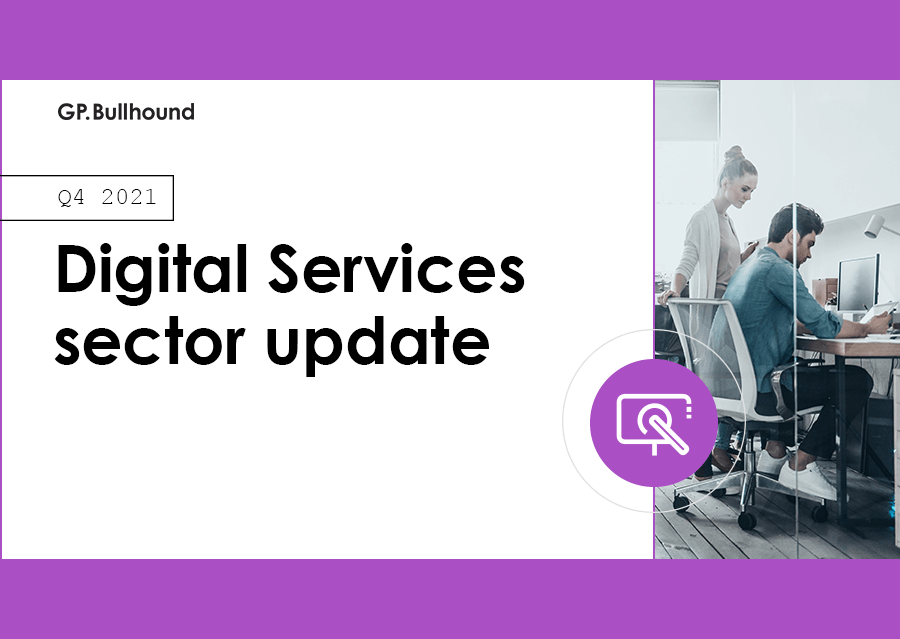 24 January 2022 - GP Bullhound today publishes qualitative insights into broader Digital Services trends and public and private valuations across the transaction spectrum, and interviews with today's leaders transforming the sector.
Simon Nicholls and Greg Smith, Partners at GP Bullhound, commented: "Q4 2021 saw strong deal activity in the Digital Services sector and provided a material increase on activity across 2020. We look at the continued consolidation we have seen in healthcare marketing driven by significantly increasing budgets. In addition, there is strong demand to access gamers' spending – forecast to reach £150bn by 2025. Advertisers are seeking to access this highly engaged and premium audience. Lastly, AI adoption in market is leading to AI specialist providers attracting major consolidators looking to bolster the deep expertise and access to talent in the space."
Enquiries
For enquiries, please contact:
Simon Nicholls, Partner, at simon.nicholls@gpbullhound.com
Greg Smith, Partner, at greg.smith@gpbullhound.com
Ravi Ghedia, Director, at ravi.ghedia@gpbullhound.com
About GP Bullhound
GP Bullhound is a leading technology advisory and investment firm, providing transaction advice and capital to the world's entrepreneurs and founders. Founded in 1999 in London and Menlo Park, the firm today has 10 offices spanning Europe, the US and Asia. For more information, please visit www.gpbullhound.com.