GLOBAL DIGITAL SERVICES MARKET PERSPECTIVES Q4 2022
Q4 2022 insights into Digital Services.
January 25, 2023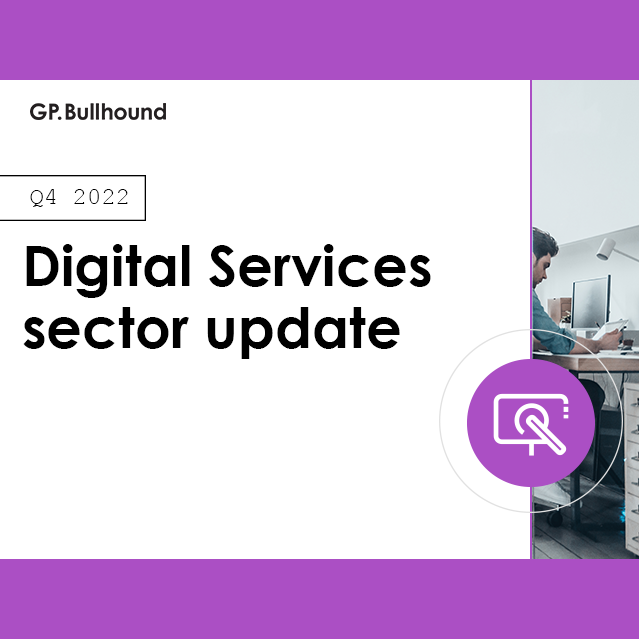 25 January 2023 - GP Bullhound publishes qualitative insights into broader Digital Services trends and public and private valuations across the transaction spectrum, and interviews with today's leaders transforming the sector.
Oliver Schweitzer and Ravi Ghedia, Executive Directors at GP Bullhound, said: "In the last quarterly report on 2022, we have highlighted several key trends driving the sector: social commerce continues to expand as social media usage continues to rise; desire to create continuous transformation processes are creating opportunities for cloud consultancies; and Managed Service Providers are becoming increasingly crucial to the long-term IT strategies of large enterprises. H2 2022 deal volumes were in line with H2 2020, but overall 2022 annual volume was in line with a highly active 2021. After a decline in Q3 2022 reflecting macroeconomic conditions, Q4 2022 saw an uptick in deal volume from Q3, potentially indicating a rise in optimism and need to deploy capital."
What's trending this quarter in Digital Services?
Social commerce a major digital services opportunity
Global value of social commerce will likely reach $2.9tn in 2026, up from $992bn today
In 2019, about half of US Millennials and Gen Z consumers shopped on social media, making it a key focus for brands
Continuous growth in digital maturity possible with cloud-enabled transformation processes
Digital transformation has become a top strategic priority for senior business leaders, initially driven by the pandemic which accelerated the need for digital initiatives, but now considered a fundamental practice
Strong M&A demand in cloud consulting with particular focus on ServiceNow and Salesforce implementation
Managed service providers market is rapidly growing and primed for consolidation
MSPs are becoming increasingly crucial to the long-term IT strategies of large enterprises
A market poll showed existing MSP providers are highly active, with over a quarter of them indicating they are seeking to make an add-on acquisition in the next 24-36 months
Market leaders are utilising consolidation to further cement their market share and investors are taking notice
Enquiries
Simon Nicholls, Partner (US), at simon.nicholls@gpbullhound.com
Oliver Schweitzer, Executive Director (US), at oliver.schweitzer@gpbullhound.com
Ravi Ghedia, Director (Europe), at ravi.ghedia@gpbullhound.com
About GP Bullhound
GP Bullhound is a leading technology advisory and investment firm, providing transaction advice and capital to the world's entrepreneurs and founders. Founded in 1999 in London and Menlo Park, the firm today has 13 offices spanning Europe, the US and Asia. For more information, please visit www.gpbullhound.com.